Recipes For An Italian Breakfast
30 Dec 2010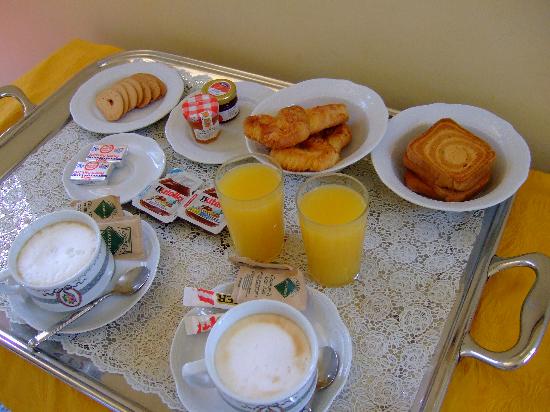 Are you considering some recipes for an Italian breakfast? Then we can give you ideas about some of the items which Italians usually love to have for breakfast. It is a well-known fact that Italians are crazy about desserts, and that is why the breakfast in Italy is mostly sweet. The typical Italian breakfast recipes call for: cappuccino or caffe', brioches, cakes, cookies, pastries, croissants, or toast and jam. On hearing this you need not worry, we can tell you about some savories which can be cooked for breakfast. 
Italian Sausage Biscuit Bake:  This is one breakfast dish which can be swapped easily. All ingredients of a great breakfast go in one dish, making it a healthier choice to start a day. The Italian sausage is combined with buttermilk biscuits, cheese, eggs, butter, and oregano.  One serving of this sausage biscuit bake packs in 351 calories with 22 gms fat and 213 mg cholesterol.
Breakfast Skillet Pizza: Breakfast skillet Pizza is a typical example of the Italian breakfast recipes but this can be served during the brunch too. This dish is prepared with Italian sausage, which is treated with bevy of vegetables, and spices.  You can make some changes this hearty stovetop recipe to suit your taste preferences. One serving of this breakfast skillet Pizza serves 445 calories with 33 gms fat and 219 mg cholesterol.
Brunch Risotto:  This is a light, delicious and inexpensive risotto which can also served during brunch parties.  The Italian turkey sausage links are treated with reduced sodium chicken broth, arbario rice, olive oil, and pepper. It takes just 20 minutes to quip this dish. Just 2/3rd cup of this risotto serves you 279 calories with 6 g fat and 23 mg cholesterol.
Breakfast Pepperoni Pizza:  This is one of the fun Italian breakfast recipes which inspire you to enjoy a quick and memorable breakfast with all near and dear ones.  Eggs, onion, butter, water, mini pizza crust, pizza sauce, and pepperoni is cooked at right temperature. It just takes 25 minutes to quip this dish. For creamier effect some experts suggest that eggs should be overcooked but that is not the right way. ½ pizzas serve you  with 547 calories with 26 gms fat and 248 mg cholesterol.
Flavorful Frittata: Basil adds an exotic flavor to the Italian frittata. It is a cheesy egg dish which is cooked over a stove top. This is served with canned mushrooms and spaghetti sauce. Spicy pork sausage adds to the appeal.  You can even prepare it using ham.  The pork sausage is treated with onions, mushroom, eggs, cream, basil, salt, mozzarella cheese, spaghetti sauce, and canola oil.  One serving of the frittata serves you 258 calories with 16 gm fat, and 345 mg cholesterol.
Egg and Tomato Scramble: We think this is one of the unique Italian breakfast recipes mentioned in this blog. Tomato, fresh basil, egg, water, garlic clove, bread, salt and pepper, are combined in varied proportions to prepare this scramble. This breakfast can be enjoyed by diabetics too. A scramble prepared with egg without salt and oil serves you 152 calories with 4 gram fats and 1 mg cholesterol. 
Image courtesy : niceeynice.files.wordpress.com
Recipes For An Italian Breakfast