How To Add Holiday Flavors To Your Cocktails
30 Dec 2010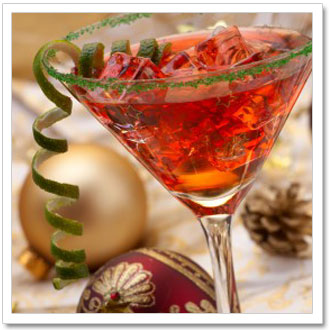 This year how about going that extra mile to add holiday flavors to your cocktails? The best known mixologists from L.A have some wonderful recipes up their sleeves and are letting out the best tips on how to add holiday flavors to your cocktails to get your guests in the absolute Holiday spirit. After all, no holiday party can ever be complete without a perfect stiff drink and when you can concoct it with the colors and flavors of the Holiday season, the drink only gets better. So, while James Brown fills up the festive atmosphere with his "Soulful Christmas" song at the background and the balloons, streamers and mistletoe hangings complete the convivial setting, let's get into the party mood and mix these holiday flavors in the cocktails too!
Adding holiday flavors to cocktails
To be frank, a holiday cocktail doesn't necessarily mean you need to stock up your cabinet with the rarest of liqueurs, unusual ingredients and the most celebrated tinctures to get the trendiest of drinks in place. Adding holiday flavors to your cocktails is more about mixing the true flavors that are prevalent through the entire festive season starting from Christmas to New Year. Our most celebrated L.A mixologists are suggesting playing the game simple, but, making it look complex! So, if you have got what I am trying to imply, then, you will know that I am talking of rum, vodka, tequila, whiskey, gin, ginger liqueur and may be a bottle of pear eau de vie too for that matter! These are drinks which we are likely to have at our homes, especially when it's the season meant for drinking and feasting. Now, play with the seasonal flavors like persimmon, pear, cranberries and dried spices like cinnamon, star anise and nutmeg and you can create holiday concoctions to vouch for.
Three Recipes which mix holiday flavors in cocktails
Bloody Holiday: Create this wonderful recipe by combining black tea syrup, vodka and cranberry purée with lots of ice in a cocktail shaker and fill up a rocks glass. Serve the cocktail with a ginger beer float with a lime twist garnish.
Persimmon Champagne cocktail: For this recipe, mix persimmon syrup, lemon juice, orange liqueur and ice in a cocktail shaker. Next, strain the concoction into a saucer or a Champagne flute. Top the drink with champagne and serve with a cranberry and rosemary sprig garnish.
Pearfect Asian: Shake inside a cocktail shaker, vodka, simple syrup, pear purée, ginger liqueur and lime juice. Strain the infusion into a martini glass and serve with a garnish of pear slices.
Picture Source: anindiechristmas.com 
How To Add Holiday Flavors To Your Cocktails