Top 10 Sauces For Seafood Recipes
30 Dec 2010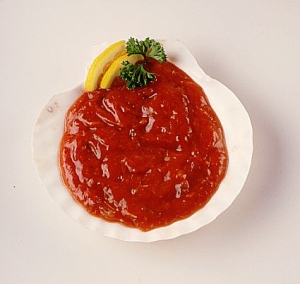 Seafood recipes are incomplete without spicy, hot, sour and sweet sauces. Here is a list of Top 10 Sauces For Seafood Recipes.
Seafood Cocktail Sauce: Seafood Cocktail Sauce is a Canadian cuisine that you can serve as side dish with your main seafood recipe. A little tangy taste of lemon when blending with mustard, barbecue sauce and pepper sauce makes your dinner absolutely complete. For recipe, click on this link.
Kickin' Seafood Sauce: Kickin' Seafood Sauce is ideal for any cooked cold seafood – be it fish, shrimp, crab or claws. Click the link for the recipe.
Peppy Seafood Sauce: Peppy Seafood Sauce, as the name suggests, based on chili sauce. It is impossible for anyone not to praise this hot and spicy sauce that also has a little tangy flavor due to lemon juice. Click here for recipe.
Spaghetti Sauce: This Canadian side dish is loved across the world for its hot and spicy taste and also because it compliments any seafood served on table. Click here for recipe.
Green Sauce: Green sauce tastes best when served as a dip with steamed or poached seafood or as a sauce with poached or grilled fish.
Garlic Sauce: Garlic sauce is for garlic lovers. Mixing garlic with olive oil, almonds, white vinegar and some bread makes garlic sauce. This sauce can be served as a side dish with fish, meat and vegetables and is a topping seafood sauces recipe idea.
Chinese Red Sauce: Fried shrimp or fish taste awesome if eaten with very hot Chinese Red Sauce. Based on chili sauce, it also has horseradish, catsup, lemon juice and Tabasco sauce in it that makes its taste tangy and hot.
Caper Sauce: Caper sauce can be served with cooked shrimp. It is not required to reheat the seafood when paired with this side dish. Made of instant chicken bouillon granules, dried tarragon leaves, mashed garlic, tomatoes and white onion, this sauce is good to eat and great to talk about.
Lemongrass-ginger sauce: With a touch of celery leaves, this sauce can be served with both seafood and chicken.
Zesty Seafood Sauce: An American side dish, Zesty Seafood sauce, is one such dish that you can serve chilled cold with the main seafood dish. Made with fresh parsley, green onions, mayonnaise, horseradish, capers and lemon juice, this dish disappears in delight in no time. Check for the recipe here.
Image Credit: familyoven
Top 10 Sauces For Seafood Recipes