Burger King Introduces New Breakfast On Its Menu
24 Dec 2010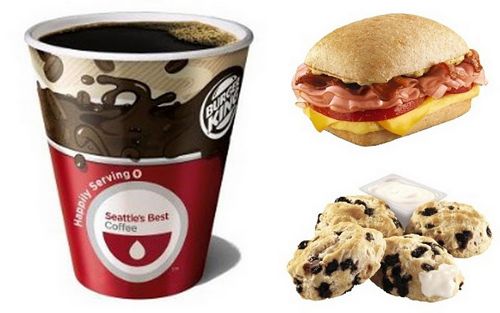 Burger King introduces new breakfast on its menu with the addition of 9 items.  Burger King has termed this expansion as "largest menu expansion ever."  Let's see what are those breakfast items introduced by Burger King.
Seattle Best Coffee and three flavors of Seattle's Best iced coffee (mocha, vanilla, and regular): 
Burger King welcomed the summer by serving the Starbucks owned Seattle Best Coffee.  The coffee is pretty good, but they are loaded with sugar, especially the iced coffees, which pack in 17 grams of sugar for the regular one and 47 to 55 grams of sugar for the flavored ones.  You need to shell out $1 to $2.79 for a cup of coffee (depending upon its size), iced or hot, with optional toppings and flavors.  Most of the people might never have expected their favorite brand of the coffee on the Burger Kings menu list when they read the news "Burger King introduces new breakfast".
Mini Blueberry Biscuits
On hearing the news that "Burger King introduces new breakfast" you might never have imagined that you can enjoy four scallop-sized Blueberry biscuits by shelling out a buck. We suggest you to pop these feisty muffins (which looks dry outside and crumbly inside), while driving. Also, you are just packing in 390 calories by popping in these feisty wonders.  You can act smart by choosing the regular biscuits in place of the white creamy ones, which will help you cut short on 90 calories more.
BK Breakfast Bowl
"Burger King introduces new breakfast" this news may bring a sigh of relief to all those who were yearning to see healthy breakfast items on the BK menu for long time. BK has intelligently designed their breakfast bowl avoiding the gravy. You will find chunks of sausage patties, shredded cheese, scrambled eggs, potatoes, cheese sauce, grilled red and green pepper slices in this one container meal. You need to shell out something from $2.99 - $3.19 for enjoying a filling breakfast in the morning. By having this breakfast you are packing in 540 calories, with 42 grams of fat.
BK Breakfast Ciabatta Club Sandwich
The "Burger King introduces new breakfast items", but very few of us might have expected to enjoy the special BK Breakfast Ciabatta Club Sandwich at just $2.89-$2.99. This special sandwich packs in 480 calories (with 23 grams of fat) combining bacon, tomatoes, thin-sliced ham, tomatoes, plain egg omelet, melted cheese, and smoky tomato sauce. The smoky tomato sauce enlivens the sandwich urging you to try out more.  
BK Ultimate Breakfast Platter

You can't simply ignore the charm of this breakfast platter offered by BK: three pancakes, sausage patty, scrambled eggs, biscuit and hash browns packs enough calories. You may feel that 1,310 calories is too heavy on the stomach, in that case you can simply share it with your friend or colleagues at work.  Although the idea of sausage patty is not new, but the addition of soft and fluffy pancakes, delicious biscuit and real scrambled eggs add to its nutritive and cosmetic value.
Cheesy Bacon BK Wrapper

When we heard that "Burger King introduces new breakfast" very few of us might have realized that BK has taken healthy potshots at McDonald's Breakfast Burrito. These wrapper tortilla wraps are filled with a scrambled–egg patties, cheese and bacon. Each wrap packs in 380 calories and 24 Gms of fat. You need to shell out $2.78 to enjoy this cheesy bacon wrapper.
BK Breakfast Muffin Sandwich

This BK special Breakfast muffin sandwich mimics the taste of authentic English sandwich and resembles McDonald's Sausage McMuffin with Egg.  You will find eggs, sausages and cheese in this muffin sandwich.  You just need to shell out $1 for a muffin sandwich. 
Image Courtesy: grubgrade.com 
Burger King Introduces New Breakfast On Its Menu