Top 10 Breakfast Beverages To Start Your Day

23 Dec 2010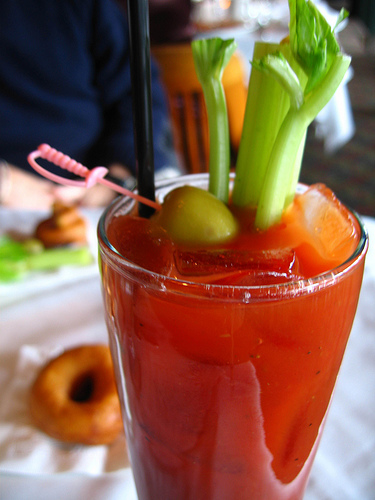 Every day is a battle, one that begins in the very bed - the fight to wake up. Now here are lists of beverages that are true eye-openers. Top 10 breakfast beverages to start your day with. These will wake you up in the very first sip.
Spicy Masala Tea is an Indian favourite. Spices are mixed into the tea bag while brewing the tea, and these are powerful enough to wake you up. Use a few crushed cardamom pods, and that should do the trick. You can also mix in a little ginger, if you like the taste. Strain and serve.
Bloody Mary is just another drink, but in the Singaporean version called the Singapore Bloody Mary, it comes with some chilies and lemon grass, adding the typical South – East Asian flavours, making this typical drink citrusy and fiery. Do remember to strain it before drinking.  
Imagine a Bloody Mary that is green! What is bloody about it you may ask, but that is what the tomatillos does to it. Mix it with some green tomatoes, cucumber, cilantro and parsley, and there you have it. A bloody (green) mary, or should we say a Tomatillos Bloody Mary. A thick and foamy drink made from cognac and milk - one that is soothing, but with the right amount of punch. That is the Milk Punch for you.
The Gage Hotel in Marathon in Texas has a drink called the cucumber cooler, which is vodka based but has cucumber and thyme leaves added in for flavor. Bourbon Milk Punch is a much sweeter alternative to the holiday eggnog, and it is great in warm weather as well. By mixing orange juice and champagne, one can prepare the Mimosa, a popular drink in the 1920s' Europe.
The Tequila Sunrise is another classic cocktail, which appeared in the 1930s' in Mexico, and since then has been popular. It is a complex recipe and cocktail itself, is layered. Tequila with lime juice and a few more ingredients generally do the trick. A coffee, brandy and orange liqueur drink, this is a flaming and zesty concoction that has been a after dinner drink at many places for a long time now. The next time around, try the Creole Coffee.
Image Credit: www.verbict.com
Top 10 Breakfast Beverages To Start Your Day