Did You Try Chicago's Must-Try Dishes?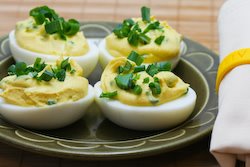 The number of Chicago's must-try dishes is too numerous to be dismissed. The taste and the flavor of some of Chicago's famous dishes also warrant more details. It is, however, imperative that you get a taste of them before you can ask, "Did you try Chicago's must-try dishes?"
The list cannot be definitive though. For one Chicago's must-try dishes are numerous with each one of them having a delicious taste of their own making it impossible to compile a simplistic list of the best five or ten of Chicago's famous dishes in a jiffy. However, we did happen to sample some of the extraordinary fare and the result was mind boggling to say the least. So here is a list of some of the best food items that can undoubtedly be categorized as Chicago's must-try dishes.
Horiatiki salad - A delicious platter of tomatoes, sweet onions, cucumbers and peppers tossed with feta cheese slices and olive oil is wonderfully refreshing at the Melanthios Greek Char House of Chicago. Served with crusty bread, this dish can definitely be labeled as one of Chicago's famous dishes.

 
Pork  Belly Kimchi Fry - Definitely one of Chicago's must-try dishes, the kimchi fries are a little crisp on the sides but tend to get soggier as it nears the center towards the rich kimchi, the Korean version of Cheddar cheese.

 
Devilled Egg - How can one better the traditional devilled egg? Acre showed the way by serving smoked trout along with a preserved lemon rind thus adding a new twist to the age old dish which is another one of Chicago's must-try dishes.

 
Butternut Squash - A roasted butternut squash at the Purple Pig is surely one of Chicago's famous dishes? Served with ricotta salata, roasted pumpkin seeds and fried sage, the dish oozes with rich butter making it difficult to resist.

 
Sticky Toffee Pudding - Abigail and its signature dessert dish of the English Sticky Toffee Pudding cannot be too far from mind when you are contemplating on Chicago's must-try dishes. Shaped like a cake and served with a topping of sour cream ice cream instead of the customary Devonshire cream, this dessert is indeed a dish fit for the king.

 
Crispy Pata - The Filipino outlet at Ruby's fast food serves a mean pork leg deep fried in lard. Enough to feed a group of four, this inexpensive dish also makes it to the list of Chicago's must-try dishes.

 
Turkey Chili - Another one of Chicago's must-try dishes, the Turkey Chili at Morseland beats all contemporary dishes hollow. The bland white meat cooked with spicy chilies enlivens the palate like no other.

 
Peanut Butter Jelly Sandwich - The traditional American comfort food finds a mention as one of Chicago's must-try dishes courtesy the rich raspberry jam together with home made peanut butter and waffles served at the       sidewalk café of the Chicago Hotel.  
Images Courtesy: kalynskitchen.blogspot.com; virginmedia.com