Top 10 Homemade Dog Food Recipes
22 Dec 2010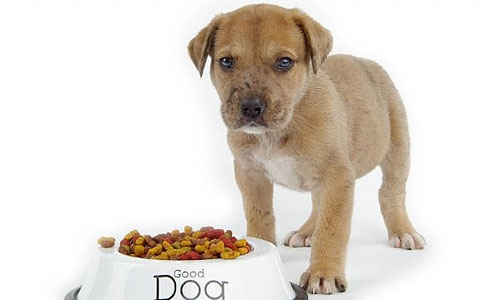 Top 10 Homemade Dog Food Recipes. This title may ring with those who are still confused as what goes into their dog's food? Then this blog suggests that the best way to judge what goes in to your dog's food and what doesn't is making the food by yourself. We suggest you to go through the top 10 homemade dog food recipes.
Doggy Casserole: This recipe goes well with all those dog lovers who are eager to master some working homemade dog food recipes.  You will need a cup of boiled poultry, ½ cup of cooked brown rice, ½ cup boiled mixed vegetables, and 3-4 tbsp unsalted chicken broth to prepare this casserole.  If you feel that your dog has got bored of this casserole very soon, then you can try preparing it by substituting boiled poultry with salmon and omitting the chicken broth.
Doggy Hamburger Helper: The name itself announces that this is a hamburger helper which you should try atleast once.  You will require a cup of hamburger meat, stir-fried in canola oil, 2 boiled eggs chopped; ½ cup cooked plain oatmeal, 1 jar baby food green beans, 1 jar baby food carrots, and 2 tbsp cottage cheese. You only need to mix all the ingredients and serve it to your dog. Now you might have understood why we said that you should try out these hamburger helper atleast once.  Hope you will like preparing this dog food and will agree with us in including it in the list of top 10 homemade dog food recipes.
Doggy Fish Dinner: We would like to call it king of all homemade dog food recipes recounted here because it screeches the word "nutrition" from each morsel.  You will need 1 can of salmon (without bones), 1 beaten egg, 3 tbsp cornmeal, 1 potato, 1 carrot, 1 stick celery, and 1 tbsp peanut butter to prepare this fish dinner. You need to combine the first three ingredients and form patties out of it. Fry them in canola oil. Chop the patties and stir it together with chopped boiled vegetables, and serve it after a garnishing it with 1tbsp peanut butter.
Doggy Oat Flakes: If you want your doggy to go the vegetarian way then you can count this amongst one of the best homemade vegetarian dog food recipes you have ever encountered. Exactly you will require 1 ½ cups of oat flakes, ¼ soy milk or soy milk powder, 1tsp wheat bran, 1tsp wheat germ, 1 tsp ground sunflower seeds, 1tsp ground flax seeds, ½ tsp vegetable oil, and 1 tsp yeast.  Combine all the ingredients together and soak this mixture in hot water for about 20 minutes. You can perhaps store the mixture in refrigerator and soak the portion that is needed to feed the dog at that given time.
Rice Porridge: On hearing about the homemade dog food recipes many of you might squeeze your brows and say rice porridge that too for a dog?! Yeah, why not.  You can serve this rice porridge to your dog for all the wonderful moments that it gives you. You only need to have 2 cups of brown rice, 6 cups of water, 2 tbsps of vegetable oil, 1 tbsp tamari or soy sauce, and 1 tbsp sesame seed oil to prepare this rice porridge. Cook the rice and add it to the frying pan with vegetable oil. Fry the rice after adding tamari or soy sauce.
Doggy Orange Squares: This is one of the most favored amongst the gluten-free homemade dog food recipes of all time. You will need a pound of ground meat, sweet potato, egg, ½ cup water, a bowl, a wooden spoon, a baking sheet and an oil to coat the pan.  Preheat the oven to 350 degree Celsius combine egg, sweet potato, and water in a large bowl, mix meat to it, and spread it in the baking sheet. Cook it for half an hour and turn the sides with the help of a spatula and bake another side for 20 minutes. Then allow the orange square to cool and serve it.  
Veggie Bars: By hearing the name itself you might have guessed what we wanted to say to you through this veggie homemade dog food recipe. You will exactly need 1 large diced sweet potato, 4 cups water, 3 carrots, 3-4 cups instant potato flakes and large saucepan or pot with lid, a sharp knife, a potato master, a baking sheet, foil, a spatula, and oil to grease the pan. It involves good amount of baking to roll out these veggie bars.
Diabetic dog treat: There are many dog owners who always fight with the enigma of serving something special to their diabetic dogs. Here we suggest an easiest amongst all other homemade dog food recipes to treat your diabetic pet.  You will need ½ cup whole wheat flour, 2 eggs, and 1 ½ pounds beef liver to prepare this treat. Pulse the liver in food process and blend it with eggs and wheat flour. Bake it for 15 minutes in preheated oven.
Poochie meat cake: We know by hearing the name itself you might have sensed how interestingly your dog will savor these poochie meat cakes.  You will need 1 1/2 cups brown rice; 3 cups water; 2 large potatoes, grated; 4 large carrots, grated; 2 large celery stalks, chopped; 6 pounds ground beef; 8 eggs ; 1 dash salt; 1/4 cup olive oil and 1 1/2 cups regular rolled oats to prepare this meat cake.  Boil the rice and mix all other ingredients and fill them in muffin cups and bake them for 45 minutes.
Doggy Meatloaf with Vegetables: Meatloaf and vegetables, we are sure your dog will love you more than ever before.  You will require 1 1/2 pounds lean ground beef; 3 stalks celery, chopped; 2 carrots, grated; 1 apple, cored and diced; 2 eggs; 2 slices white bread, torn into pieces; 1 cup regular rolled oats; 1 cup wheat germ; 1 (6 ounce) can tomato paste; 4 medium potatoes, cubed 3 carrots, chopped; and 1 stalk celery, cubed. Mix all the ingredients and bake them in oven for 80 minutes until  doggy meatloaf is ready. 
Image courtesy: homemadedogfoods.org 
Top 10 Homemade Dog Food Recipes