8 Meals That Can Be Made With Frozen Corn

22 Dec 2010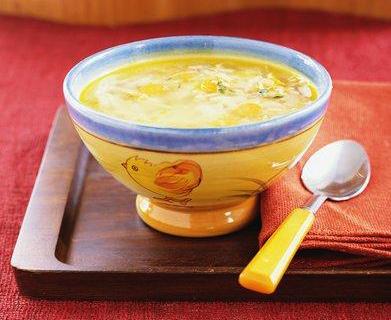 Well have all encountered unannounced and unexpected guests at odd hours and have been through the dilemma of cooking a quick meal or snack for them. Most of us do have frozen corns in the fridge at all times and they can come quite handy in making some quick-fix meals and snack and let me tell you about 8 Meals that Can Be Made With Frozen Corns.
Corn Soup and Cheddar Crackers
This is a perfect meal on a rainy cold day. The sweet corn soup, which can be made from the frozen corns and crispy, smoked cheddar crackers are just perfect for warm dinner on a cold night. The soup is creamy, healthy and filling. Though it tastes creamy, there is no cream involved at all. All you require are few potatoes, leek, onions, and frozen corn.
And to compliment this delicious soup you could have some light delicately crisp crackers.
Caramelized Corn with Tomatoes and Bacon
This one is true summertime snack. Shave off the kernels from the cob, and sauté them with chopped onions and little olive oil or butter. See them turn into golden sweet delight. Cut large chunks of tomatoes and fry the chopped bacon. Mix them all and you have a perfect crunchy munchy sanck or side dish with soup.
Fresh Corn Pancakes with Salsa Cruda and Greek Yogurt
After a day's hardwork, who's left with energy to make an elaborate meal? Well, try this one for a fuss free meal. The meal contains fresh sweet corn, heirloom tomatoes and fresh herbs. The pancakes are light and crispy with pops of corn in every bite. Make it healthy by using whole wheat flour, less butter and almost no oil in the batter.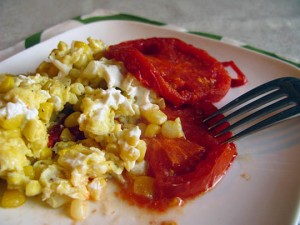 Scrambled Eggs with Corn, Goat Cheese and Oven Roasted Tomatoes
This could either be made for breakfast or dinner. It takes less than 15 minutes to make is deliciously healthy. Microwave the corn for 3 minutes, sauté them in a pan with little butter add eggs and scramble. Once done, sprinkle some goat cheese and serve with roasted tomatoes.
Seared Scallops with Tomatillo Guacamole & Corn Salsa
The guacamole and salsa take mere minutes to throw together and can be made far in advance. This recipe tops quick seared scallops with two elegant, but easy condiments to create a beautiful plate of bright summer colors and fresh ingredients.
Double Corn Bread with Smoked Mozzarella and Sun-Dried Tomatoes
If you have your doubts about the corn bread being too sweet, then let me tell you this one is for the people who love savory stuff. Swap the smoked mozzarella or Gouda for the more traditional Cheddar. Add buttermilk to give the corn bread the required tang and tender crumb. The dried tomatoes help to tone down the corn sweetness as they add a salty touch.
Squash, Corn and Lemongrass Soup with Spiced Pumpkin Seeds
This lemony juice is great for a cold day meal. It has got a rich creamy texture (without adding any cream!) and the right amount of lemongrass flavor. It comes together incredibly quickly and combines rich squash with sweet corn and a crunchy garnish. The soup freezes well and can be made days in advance and enjoyed whenever you are pressed for time and can not afford to cook a meal.
Mung Bean Salad with Corn and Basil
Mung Beans are a very healthy salad choice. They have a creamy sweet flavor and the crunchiness just adds spark to the whole thing. Combing the beans with corn and basil makes for a fantastic and filling salad. Don't forget to make this for your child's lunch box or a family picnic.
Frozen corns are quite versatile when it comes to cooking. Have them stored in your freezer section for some quick, filling and healthy meals.
Image Credit: static.ifood.tv,  apartmenttherapy.com, grabbingthegusto.files.wordpress.com
8 Meals That Can Be Made With Frozen Corn