How To Make Phyllo Cups For A Party

19 Dec 2010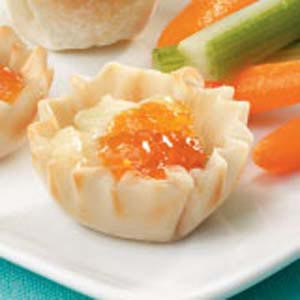 Phyllo cups are in use whenever we host a party or we desire to prepare a special meal. Learn how to make phyllo cups for a party which are normally made from  specially prepared dough and formed into cup shapes. These usually form the base of several recipes which includes many appetizers and desserts. Here are some tricks on how to make phyllo cups.
Making phyllo cups is easy – you just need to ensure that the dough does not dry or tear while you are making these cups.
To make phyllo cups, you need to combine salt and flour. You have to mix some melted batter, water and vinegar in a bowl. You need to use the mixer at very low speed, adding the wet ingredients very slowly into the mixture. You will have to see that the dough does not dry while making phyllo cups.
Once you have prepared the dough, you need to form a ball from the dough. You need to fit the dough hooks on the mixer and keep kneading the dough at medium speed, until you find that you are making a soft ball.      
Making the dough in the right way is very important when you make phyllo cups. You can now transfer the dough prepared from the above process to an unfloured surface and keep kneading it using your hands.
One trick of making phyllo cups is throwing the dough up and then again throwing it down with great force.
Continue the above process for 2 minutes.
Shape the dough into ball shapes and slowly transfer them in a plate.
Brush the dough with butter and cover it with plastic wrap. Let this rest for 90 minutes.
Put some flour on your tablecloth and slowly unwrap the dough you have prepared to make phyllo cups.
Dust the dough with some more flour and roll a very thin, even layer for making phyllo cups.
Stretch the dough now…do it very gently.           
Once you are able to stretch the dough, place it on the work surface. Continue stretching the dough, till you notice it become paper thin. It needs to be around 2 feet by 3 feet which is ideal to make phyllo cups.
If you find any uneven surface, just cut it off.
To make phyllo cups: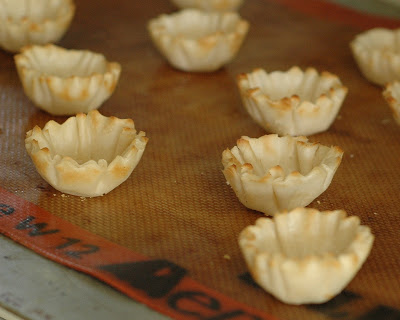 The dough needs to be cut into long rectangular shapes. You can prepare flaky layers easily which is required for cups.
Brush some melted butter.
Place a 2nd rectangle on top of the 1st rectangle.
Put some butter on this too.
Repeat the process 3 times at least. Make new rectangles to make phyllo cups or keep repeating the process till you have used the entire dough.
Cut circles from each rectangle.
Press each circle into 1 muffin cup for making phyllo cups.
Bake these cups at a preheated over for 15 minutes.
Once baked, you can slowly remove these cups from the pan and let them cool.
Image credits: tasteofhome.com,
How To Make Phyllo Cups For A Party