Best 5 Restaurants That Serve Traditional Kwanzaa Meals
17 Dec 2010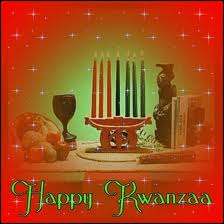 Best 5 Restaurants That Serve Traditional Kwanzaa Meals! Well, There are a quite a few African restaurants in the USA serving authentic African foods. But, a lot of us are ignorant about African food. Worser still, a lot of us think that African cuisine comes under one big blanket. I feel that it is a crime to think like that. And people, Africa is not a country, it is a continent. Now, Kwanzaa is a seven day, secular festival that is celebrated every year from Dec 26 to January 1that celebrates the African heritage of all the African diaspora around the world.
The word Kwanzaa comes from the Swahili phrase 'matunda ya kwanza', meaning first fruits of a harvest. These restaurants that I am going to be listing here all serve authentic African food. They may or may not observe Kwanzaa and serve you Kwanzaa meals. But, because the food is African; you can consider them as your personalized, traditional Kwanzaa meals. There are more African restaurants in the south of America than in the north. We are not surprised, are we? Ok, so here goes; the list of 5 restaurants where you can eat your own Kwaanza meals.                                                                                        
Kenyan Cuisine - A Taste of East Africa @ 2626 W La Palma Avenue, Anaheim, CA

 
The good news is that they serve only the most authentic Kenyan food in Southern California. But the bad news is, it is the only Kenyan restaurant in Southern Cali. Swahili is the national language of Kenya and there is a good chance that they might be serving Kwanzaa meals. So if you want to reserve a table or two for this Kwanzaa season, I suggest that you start calling now.
Makeda Ethiopian Restaurant @ 338 George Street, New Brunswick, NJ

 
This is a classy little restaurant is New Jersey that serves good Ethiopian food. Live jazz bands play here and I think that it would be the best celebrate Kwanzaa with little bit of soulful music. I'm told that the ambiance over the weekends are really good, so call in to make your reservations.                                                                                
Ghenet @ 284 Mulberry Street, Manhattan, NY

 
This is yet another Ethiopian restaurant that serves the good food. Their kategna and kitfo dishes got a rave review in the Gourmet Magazine in 1999. Their serve portions are decent and so are the prices. If you decide to go there and have your personalized traditional Kwanzaa meals, then do include the Ethiopian honey wine in it.
Jamaican Jerk Hut @1436 South St., Philadelphia, PA

 
I can bet 10 bucks that they will observe Kwanzaa and will serve Kwanzaa meals. This restaurant serves the typical Soul Food. Do check out their jerk chicken, goat curry, ital stew and ginger beer. PS: You have outdoor dining options.                                                                                            
Ghana Cafe @ 2465 18th Street, NW, Washington DC

 
This restaurant is run by a Ghanaian couple Abigail and Tony Opare. Ghana cafe serves good West African food. They also have a good alcohol collection from West Africa. If you are in the DC area, then, the Ghana Cafe will be the best place to have your Kwanzaa meals.
Bon Appetit! Enjoy your Kwanzaa meals.
Image courtesy: mymyspacelayouts.wordpress.com
Best 5 Restaurants That Serve Traditional Kwanzaa Meals