Easy Wine And Cheese Party Menu Ideas
16 Dec 2010
If a stylish, elegant and exclusive, yet an easy and quick way to throw a party is what you are thinking about, then wine and cheese party is the perfect answer to all your questions. Wine is perfectly complemented with cheese, but to take it to a totally different level altogether, try these top 5 easy wine and cheese party menu ideas and mesmerize everyone present there.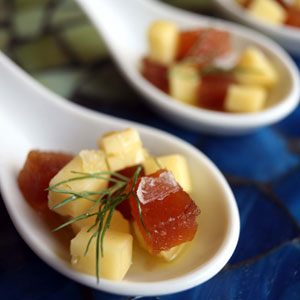 •    Mahon con Membrillo: This spicy tapa is a great and easy wine and cheese party menu idea that adds a touch of Mexican flavor and spirit to your party. A spiced and flavored mixture of cubed quince and cheese, it serves as a perfect hors d'oeuvre for the occasion. Serve them on small Chinese soup spoons for that perfect presentation.

•    Easy Spicy Cheese Straws: These thin little cheese straws add a French flavor to your party. The spicy cheese straws, also known as "paillettes" are basically twisted strips of cheese that act as a perfect complement to your wines and cocktails. Cheddar or any other hard grating cheese is a perfect ingredient for this easy wine and cheese party idea.

•    Farmhouse Cheese Tartlets: Goat cheese, buttermilk and sun-dried tomatoes combine together to form these delicious savory bites. Casual entertaining or a formal setting – these cheese tartlets fit themselves in all occasions.

•    Skewers: Fruits like strawberries, grapes, pineapples and kiwis are great options for fruit skewers. Arrange small pieces of these along with cheese cubes and serve. Not only a dash of bright color, these bring great taste and good health too. Similarly, skewers with diced marinated vegetables and sausages are other easy wine and cheese party ideas.

•    Parmesan Toast: Grated parmesan cheese flavored with rosemary and thyme and spiced up with red pepper and salt is generously spread on toasted bread to conjure up this delicious snack for a perfect wine and cheese party. Serve them to your guests and let them be lost in the depths of great taste.
Other than these, dips and salsas, crackers and breads are also great options. So, the next time you host a wine and cheese party, make space for these easy wine and cheese party menu ideas as well. With the Christmas Eve fast approaching, what can be a better way to set the celebratory mood than this eternal flavorful combo of wine and cheese and the tasty snacks to complement them?
Photo Courtesy: delish.com
Easy Wine And Cheese Party Menu Ideas