Holiday Drink Mixes for a Fun Holiday Party
15 Dec 2010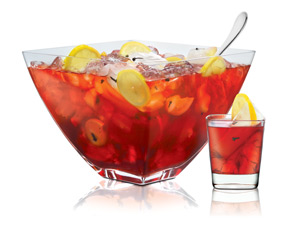 Bored with the same old traditional holiday drinks and want to add a new punch to your Holiday dinner table? Folks it's time for some innovation and creativity! So, come along with me and together, we shall make some of the most unbeatable holiday drink mixes for a fun Holiday party. Are you game? So, let's begin…
Holiday Drink Mixes for a Fun Holiday Party: My Top 5 Picks Exclusively For You
Nicaraguan Negroni Punch
Just combine a frozen mixture of lemon juice and cloves with Campari, Flor de Cana 7 year, Cinzano Rosso, Grapefruit Juice and honey in a punch bowl and serve with flavored ice cubes.
PAMA Pine
This is one of the easiest and most exciting holiday drink mixes for a fun Holiday party. Combine PAMA Pomegranate Liqueur and Van Gogh Pineapple Vodka and add a dash of lime to go with. Next, shake the mixture and it's ready to serve.
Raspberry Chocolate Cheesecake Martini
Sounds interesting but complex? Don't worry; this drink mix is easier than you think! Combine 2 parts of EFFEN Raspberry Vodka with half a part each of chocolate liqueur and Irish cream. Serve the cocktail in a cocoa-rimmed martini glass garnished with a raspberry.
Mistletoe Makeout
For this delightful drink mix, muddle berries in a glass and mix some allspice. Now, pour the freshly pureed berry in a cocktail shaker along with Grand Marnier and VeeV Açai Spirit and shake the ingredients over ice into a delicious mix. Finally serve this drink with a topping of Cremant d'Alsace and a garnish of mistletoe at the flute's bottom.
Holiday Cheer
To make this cheerful Holiday drink mix, begin the preparations a day before by setting aside overnight a single barrel infused with allspice, cinnamon and cloves. The day after, mix double parts of Cruzan Single Barrel with one part of apple cider, half a part of maple syrup and ¾ parts each of lemon juice and red wine in cocktail glass and serve with a lemon wheel garnish. Truly and undoubtedly, one of the divinest holiday drink mixes for a fun Holiday party!
Picture Source: whattodrink.com
Holiday Drink Mixes For A Fun Holiday Party