Winter Food Ideas: Quick And Easy Ways Of Cooking Winter Squash
14 Dec 2010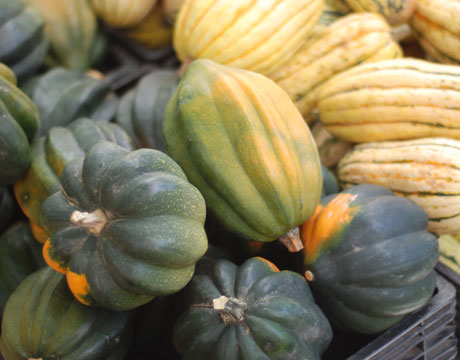 Winter squashes are flooding the market and I know you might be fiddling with various winter squash ideas. I' m happy to show you some quick and easy ways of cooking winter squash. Believe me, you can snap some delicious dishes using various types of winter squashes. 
Squash Tian:  You can either use delicata or butternut squash for preparing the squash tian. This squash tian is prepared in a very simple and classic manner and it focuses on the true flavor of the summer squash.  Other than squash tian you will need onion, olive oil, garlic cloves, plum tomatoes, oregano, thyme, basil, black pepper, and Italian parsley.  It takes you barely 45 minutes to prepare this tian.
Butternut Squash Soup:  This soup can warm you up if you are in a hurry. It can be served at any time of the year. You can play with volumes of ginger, sour cream, and jalapeno to garnish the soup.  You will need butter, onion, fresh ginger, jalapeno pepper, butternut squash, chicken broth, evaporated milk, coconut milk, white sugar, black pepper, sour cream, and fresh thyme to prepare this soup.
Amount Per Serving Calories: 336 | Cholesterol: 47mg| Total Fat: 21g
Squash Casserole:  This casserole is the delicious blend of various tastes and textures. Generally, I use buttercup squash to prepare this casserole but you can also use acorn squash to make it.  You will need butternut squash, butter, brown sugar, salt, white pepper, butter, apples, cornflakes cereal, and pecans to prepare this casserole.
Amount Per Serving  Calories: 332 | Cholesterol: 29mg|Total Fat: 16.4g |
Sweet Hubbard Squash Custard Pie:  This Hubbard squash pie can be served during Christmas dinner or other holidays too.  You can spice up the pie with the ingredients of your choice.  You will require Hubbard squash, eggs, dark brown sugar, heavy cream, apple pie sauce, salt, salted butter, and unbaked pie crust to make this pie.
Calories: 327 | Cholesterol: 107mg | Total Fat: 18.4g |


Winter squashes are rich sources of vitamins and other nutrients.  You need to spend just a few minutes to prepare interesting dishes out of them . 
Image courtesy: thedailygreen.com
Winter Food Ideas: Quick And Easy Ways Of Cooking Winter Squash