Tips for Preparing Hearty, Healthy Winter Meals

14 Dec 2010
When it comes to staying healthy during the winter season, extra care should be taken by having healthy foods in winter is very important. Winter is a time when we tend to consume more food and we look for comfort foods which provide warmth, meaning that we may put on a few extra pounds if we don't watch what we're putting in our mouths. 
Keeping health, nutrition and calories in mind when preparing winter food, here are a few Tips for Preparing Healthy Winter Meals:
Crockpot meals are a great idea during the winter. Meals put together in the morning can sit and cook while we are out and about during the day. These include mels like soups, stews, casseroles and pasta bakes all of which can be made low-fat and have good nutritional value.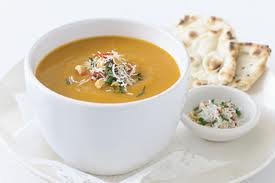 Soups can be used as healthy appetizers in winter. Vegetable soup can be made with ingredients like diced carrot, zucchini, onion, celery, potato and squash.
Prepare foods using various low-fat options like substituting butter with olive oil, whole-milk or half-and-half with low-fat or fat free milk, and replacing usual fatty cuts of meat with 99% fat-free white meat like ground turkey. Try choosing low-fat cooking methods as well, like baking, broiling, microwaving or boiling foods.
Herbs, spices and other flavorings can be used to add flavor to meals. Lemon juice, basil, onions and garlic can be used to reduce sodium and fat content.
Have a healthy winter.
Image Courtesy: www.welladjustedbabies.com
Tips For Preparing Hearty, Healthy Winter Meals