You are here
Home
»
Menu
»
Dinner Menu
» Kwanzaa Dinner Ideas: How To Plan A Traditional Kwanzaa Food Dinner Party
Kwanzaa Dinner Ideas: How To Plan A Traditional Kwanzaa Food Dinner Party
14 Dec 2010
Just like all other festivals, food plays an important role in Kwanzaa celebration. Most Kwanzaa food recipes come from the African continent during the weeklong Kwanzaa celebration, which runs from December 25 to January 1. If you are new to this concept, here are a few Kwanzaa Dinner Ideas and How To Plan A Traditional Kwanzaa Food Dinner Party.
Each traditional Kwanzaa dinner consists of an appetizer, a main dish along with one or two traditional side dishes, desserts and beverages.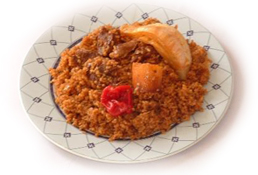 Jollof Rice: Traditional Kwanzaa food serves jollof rice or 'Benachin' as main dish in the dinner. It is one of the most popular dishes all across West Africa. It is made of rice, tomatoes, tomato paste, onion, salt, and red pepper. You can also add any kind of meat or vegetable along with spices for flavor and aroma.
Grilled Moroccan Chicken: Chicken can be prepared in a healthy and exotic way. Serve it with fresh green salad for great tastes.
Koki: Koki, an appetizer, is also known as bean cake. You will need black-eyed peas or haricots or beans to make it. This dish is similar to Moyin-Moyin, a Western African recipe, in which stuffing of mashed beans' paste is wrapped in banana leaves and steamed.
Okra and Greens: For side dish, serve Okra and Greens in the traditional Kwanzaa dinner. Try fried okra. Make crust with flour or cornmeal or a mixture of both. You can find some of the okra recipes by clicking on this link. You can make collard greens – healthy yet tasty.
Peanut Soup: A dinner party, which serves traditional Kwanzaa food, must have peanut soup in it. This yummy appetizer is primarily made of peanuts, hence, the name. This is pan-African and African-American soup, which is mainly consumed during Christmas time. For recipe, follow the link. Also try hot and spicy West Indian pumpkin soup. You can serve it both hot and cold and hence can prepare in advance.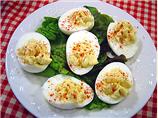 Deviled eggs: With mayonnaise, mustard and pepper and hard-cooked eggs, make mouth-watering deviled eggs. Explore your imagination to make this delicious, protein-rich recipe for the dinner this Kwanzaa.
Dessert: If you are bored with serving the same regular fruit salad or coconut pie in desserts, try something different this year. Give your delicious Kwanzaa dinner a lighter end by serving simple and healthy cinnamon orange recipe. Just pick sweet and juicy oranges for great taste.
Beverage: Serve ginger beer or green tea with mint among some of the beverages on the dinner table.
Image Credit: lakesglobal.co.uk; food; food (2)
Kwanzaa Dinner Ideas: How To Plan A Traditional Kwanzaa Food Dinner Party