Best 5 Holiday Appetizer Ideas For A Gluten Free Holiday

11 Dec 2010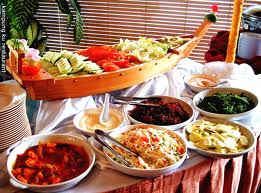 Night outs and parties and tables spread out with all kinds of food… that is what the holiday season is all about. It is easy to forget and to give in to temptation, but if you are hosting a party, it would be rather thoughtful of you, if you served some healthy options instead. Now, hosting a party, which serves tasty but diet conscious menu, is not as tough as you think it might be. Here is how you can do it.
One of the best ways to go about it is to ask your guests to being their favourite item. This way, they will feel so much safer, knowing that they have their own healthy or favourite item to fall back on. If you are going crazy thinking up the entire menu, ask your guests for suggestions. They are sure to give you some tips on the healthy way to cook something.
You can also try customizing some of your favourites, and if you have some experience in creating food that caters to your diet plans, then take the dairy free cheese or the gluten free bread. If you have to use flour in your recipe, get the gluten free flour, like the rice flour. A few teaspoons of the same would suffice, and you will get some amazingly delicious outcome. Now for the milk, you can go for the aseptic package of soy, rice or almond milk, and instead of normal butter, opt for the dairy free butter or you can replace it with heart healthy oil.
Always keep the packages of your pre packed items. Certain guests might be allergic to certain ingredients, or they might be off certain substance, so keep the package handy, so that they can check for themselves. Sometimes it is best to think basic.
Here is a selection of easy to make dips that will work for the diet conscious and the vegans alike.
Dips
Hummus – This is flavourful and versatile, and it is rich with garbanzos and sesame… how can you go wrong?
Tapanades – Try out an Olive or a sun-dried tomato Tapanad, because these are sure to add a little touch of class to your appetizer table.
White Bean Spread - Beans may not sound like the best thing to serve at a party, but when paired with a little rosemary, they can become definitely holiday-worthy.
For Dipping
Bread is not a great idea, for a gluten free dinner, but there are varieties of bread that are made keeping your diet plan in mind. With a little scouting around, you are sure to come across high fiber, whole grain varieties.
Chips – Yeah, you are wondering, how can this ever be gluten free? Well, there are some chips which are baked, some that come plain. Be sure you ask for the right kind.
Vegetables – Keeping an assortment of veggies can also be a good idea. Try some carrot sticks, some cherry tomatoes, sliced bell peppers and cucumber. There are of course many more veggies that you can try out. You can have them guilt free
For Snacking
Cocktail Style Seafood – Before preparing this, check if there are any shell fish allergic guests in your list. If yes, then prepare just the prawns, else opt for crabs and prawns, prepared in the simplest fashion. These make great, healthy finger food.
Fresh Fruit – Pineapple slices, orange wedges, melon ball… all these can be a plateful during a holiday meal.
Nuts – Add a bowl of nuts for some extra crunch, and look on as the holiday mood sets in.
Have a nice party everyone!
Best 5 Holiday Appetizer Ideas For A Gluten Free Holiday