Unique Kwanzaa Menu Ideas For Seven Days Of Kwanzaa
10 Dec 2010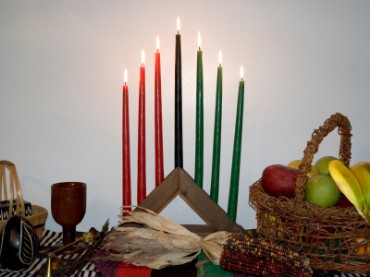 Before helping you out with some unique Kwanzaa menu ideas, for seven days of Kwanzaa, it's important to know what is this festival all about and why is it celebrated? Borrowing some words from Wikipedia we can tell you that "Kwanzaa is a weeklong celebration held in the United States honoring universal African heritage and culture, observed from December 26th to January 1st each year." The word Kwanzaa is borrowed from the Swahili phrase "matunda ya kwanza". The idea of Kwanzaa celebration was born during the times of Black Nationalist Movement in 1960s. The idea was conceived by Dr. Maulana Karenga and was first observed in 1966. Similar to the Hanukkah this festival is also marked with lighting of the candles placed in the traditional candleholder called kinara, followed by feasts, lectures and gifts. Throughout the week the African-American honor their rich food culture by preparing various Kwanzaa special foods.
Now, let's come to the point, Ifood presents before you some unique Kwanzaa menu ideas for seven days of Kwanzaa.

 
Koki:  Koki is nothing but a bean cake, which is popular throughout the Cameron. It is also known by some other names such as Ekoki, Haricots Koki, Koki de Niébé, and Gâteau de haricots. Dry cowpeas, sweet peppers, palm oil, salt and banana leaves are used to prepare this yummy appetizer dish.  The beans are crushed, fried and steamed in banana leaves while preparing koki.

 

Jollof Rice: It is a typical Nigerian dish and derives its name from the Wolof tribes of Gambia and Senegal, who also prepare a fish and rice dish known as Ceebu Jën. Chicken, oil, onions, salt, flavorings, chicken broth, ripe tomatoes, vegetables, rice, tomato paste, meats, and herbs are used in the preparation of this delicious rice dish. Although there are many variations to this recipe. Some recipes suggest you to make use of meat or fish in copious amounts. Jollof Rice bears strong resemblance to "Red Rice" in Southeastern United States.

 

Peanut Soup: A typical African meal is incomplete without a peanut soup. Peanut is a staple food, which is generally consumed throughout Africa with same fervor and likeness.  A typical peanut soup recipe calls for chicken broth, small minced onion, green sweet pepper, garlic, black pepper, hot chili pepper, carrot, tomatoes, and unsweetened peanut butter.  Although some colonial American peanut soup recipes also suggest using vegetables, milk or cream for added richness.

 

Yams: It is widely whispered that yam was introduced in Africa by ancient Asian explorers. But today it has influenced African food culture in a big way. Yams are an integral part of many of  West African food preparations.  The traditional African side dish called Fufu is made using only yam. The famous African writer Chinua Achebe has honored this vegetable by calling it the "King of crops" in his book Things Fall Apart.

 

Okra and Greens:  Okra is believed to have originated in Northeastern Africa, thus it forms base of many of the stews and soups prepared in that region. The people living in these areas follow traditional preservation methods to store okra for long term use. The Okra is known as ngumbo in the Buntu language and a famous stew recipe Louisiana Creole-Cajun Gumbo soup stew is inspired by this name. You will require onion, palm oil, greens, water, okra, palm butter and chili pepper to prepare this stew. You can also use the readymade palm soup base to prepare this dish.

 

Fruit Salad: Africa is known for its beautiful landscapes and deliciously beautiful tropical fruits. In most of the African homes the fruit salad is served after Palm-Oil chop or Groundnut Stew.  Avocado is the regular ingredient in the fruit salad. Avocado is rarely found in other fruit salads.  Instead of avocado you can also go for some fruits such as banana, grapefruit, guava, mango, melon, etc.  Other than that you will need lemon juice, sugar and grated coconut to whip up an interesting fruit salad.

 

Green Tea with Mint: The Africans are very much fond of their gunpowder teas, which are served during the midday breaks. Gunpowder tea refers to the way in which tea leaves are rolled into the small pellets. These small pellets resemble gunpowder. You will need any green tea, fresh mint leaves, cold water and sugar to prepare this drink.
Image courtesy: elcivics.com 
Unique Kwanzaa Menu Ideas For Seven Days Of Kwanzaa