Best 5 Homemade Chocolate Candy Making Ideas For Chocolate Candy Day
8 Dec 2010
Every year, December 28 is celebrated as the chocolate candy day. We bring you the best 5 homemade chocolate candy making ideas for chocolate candy day, so that you can celebrate this unique day with full enthusiasm. Have a sweet chocolate candy day!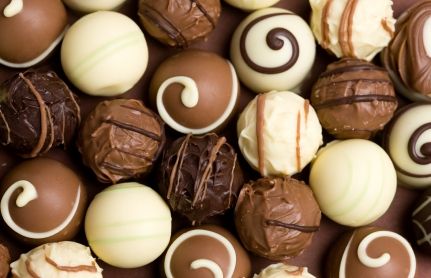 Homemade chocolate candy
Try out these delightful homemade chocolate candy recipes and celebrate a delightful chocolate candy day!
Chocolate dipped apples
Granny smith apples are sliced into small cubes and dipped in chocolate sauce before rolling them in chopped walnuts and apples. You can choose your own chocolate dip, like white chocolate, dark chocolate, milk chocolate etc.
Chocolate dipped cherries
For these delightful chocolate covered cherries, you would need firm cherries with their stems intact. The stems would make it easy to hold the frozen cherries. Form a chocolate paste, mixing together the confectioner's sugar, melted chocolate and corn syrup. Roll the cherries in this paste until a thick layer of chocolate complete covers the cherries. Freeze and serve.
A rich, creamy delight, butter, chocolate chips and cream are melted together and refrigerated until it becomes firm. This 'dough' is then cut into pieces and rolled into small balls and then rolled in melted chocolate and chopped nuts.
Chocolate-saltine toffee
The saltine crackers can be converted into delightful chocolate treats by covering these crackers with a mixture of melted chocolate, chopped almonds and corn syrup. The sweet and salt flavor of the crackers makes them a delightful treat.
Oreo-chocolate truffle
Break Oreo cookies into small pieces and mix them with melted  white chocolate and roll into square or balls. Add cream cheese to make a creamy truffle. Roll in chopped almonds if you so desire. Refrigerate them to allow the melted chocolate to settle and serve.
Image credit: sp.life123.com
Best 5 Homemade Chocolate Candy Making Ideas For Chocolate Candy Day