You are here
Home
»
Menu
»
Party Ideas
» Ideas For Cool Gingerbread Houses For A Children's Gingerbread House Party
Ideas For Cool Gingerbread Houses For A Children's Gingerbread House Party
8 Dec 2010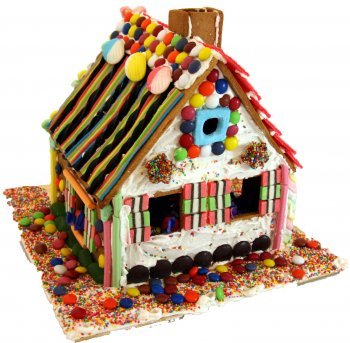 If you are planning to have a gingerbread house party for your kids, then you should have some ideas for cool gingerbread houses for a children's gingerbread house party. The gingerbread house day is usually observed on the first Friday of December, however you can fix any day within the holiday season to have fun along with kids and their friends. Here are few ideas for cool gingerbread houses.
Gingerbread House – The normal gingerbread house can be prepared easily. However, you can decorate this by using your own imagination. Try to have a snow-covered yard along with a snowman and couple of furs. Use different types of candies to embellish the roof or the walls. You can also prepare small cookies in various animal-shapes to add more contexts to the house.
Gingerbread Castle – A gingerbread castle could require some more time and perseverance, as you have to do a lot. Start with individual parts of the castle. Make one part at a time and then finally assemble all of them together with icing glue. A gingerbread castle itself is enough complicated task, so you may not go for building up the yard or garden in front of the castle.
Gingerbread Church – The gingerbread church can also become a unique and cool idea for the festive occasion. This will also not take much time to assemble, unless you try to decorate the church with intricate designs. However, that will definitely make the piece look more interesting.
Gingerbread Igloo – Making a gingerbread igloo or a number of igloos on a snowy land will be perhaps the easiest thing to do. Here you don't have to pay much attention to the details, but will require doing lots of icing for the igloos and the land. Don't forget to add snowman to this land of white. To make this more delicate, you can add the reindeer-driven cart of Santa.
Image Courtesy: zedomax.com
Ideas For Cool Gingerbread Houses For A Children's Gingerbread House Party