Best 5 Peanut Butter Brownies For Brownie Day Celebrations

7 Dec 2010
"If for the love of a brownie, I were to fight a battle, I would and then swoon for the love of it  again" . Such is the effect of brownies, which sets your tongue rolling. To know more about the best 5 peanut butter brownies for brownie day celebrations, which falls on the 8th of  December, read on.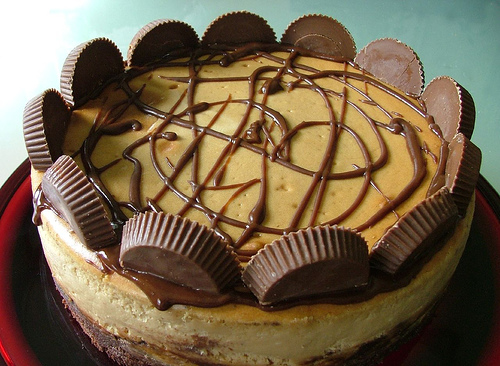 •    Chocolate Peanut butter brownies:
Mix all-purpose flour, baking soda, baking powder, peanut butter, melted chocolate, granulated sugar, egg, and milk. Pour mix into a greased square pan in the oven  and bake at 375 degrees. Cool and cut into squares.
      

•    Triple Layer Peanut butter brownies:
 These brownies have three delicious layers: brownie, peanut butter and semi-sweet chocolate. All you need is Brownie mix, vanilla flavored instant pudding, creamy peanut butter, powdered sugar, whipped topping, semi-sweet chocolate, and coarsely chopped dry roasted peanuts. Bake the brownie mix according to package instructions, cool and then refrigerate. Whisk milk and the pudding mix for about 2 minutes in a bowl with peanut butter and sugar. Spread this mix over the brownies. Mix the whipped topping and chocolate together and put on high heat in the microwave for about a minute, with regular stirring. The chocolate mix is spread on the brownies with roasted peanuts to go on it. The three-layer peanut butter brownies are then refrigerated- a perfect treat for brownie day celebrations.
This recipe is very simple to prepare and at the same time, scrumptious. Here you have the brownie mix, vegetable oil, and egg  beaten to form the batter. The batter is then placed in a cup cake pan, lined with cup cake wrappers. The batter is filled up to 3/4th level of the cup-cake cups with an unwrapped miniature peanut butter cup in the middle of it. Then bake for about 30-35 minutes. All that's left is to munch on those gooey, melting brownies!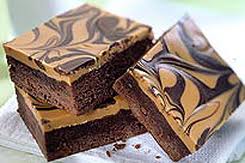 •  Peanut butter swirl brownies:
The batter for the brownies will include butter, coarsely chopped, unsweetened chocolate, semi sweet chocolate, egg, baking powder, granulated sugar, all-purpose flour, salt and vanilla extract. Baking powder, flour, and butter are whisked together in a bowl. The chocolates and butter melted at high heat, is whisked with granulated sugar and then eggs, vanilla extract, are added and whisked till the mixture is smooth. The flour mixture is then added to this mix and stirred well. And, for the filling; butter, confectioner's sugar, peanut butter, salt and vanilla in a bowl are stirred together so that they get thoroughly mixed. The brownie batter is spread in layers, on the baking tray, with dollops of peanut butter filling alternating between them, the top layer once again having dollops of peanut butter spaced two-inches apart. The peanut butter filling is then gently swirled with a butter knife crisscrossing along vertically. This preparation is then ready to go for baking. Result: beautifully swirled peanut butter swirl brownies.
                            

•    Caramel peanut butter fudge brownies :
Fudge brownie mix, vegetable oil,  eggs, dark chocolate ice cream topping are mixed in a bowl separately, till all the ingredients are incorporated properly. The mix is spread on the batter. The peanut butter and caramel topping are mixed together separately and dropped spoonfuls over the brownie batter. To create a marbled effect, a butter knife is used to pull through the spread in the pan. Bake and cool.

The best 5 peanut butter brownies for brownie day celebration will be the crowning glory of your kitchen, as it is filled with the scents of peanut butter, brownies, caramel and chocolate,  etching in your memory the best brownie day celebration ever.

 

Photo Courtesy : kraftcanada.com,
qwickstep.com
Best 5 Peanut Butter Brownies For Brownie Day Celebrations