You are here
Home
»
Menu
»
Dinner Menu
» Hanukkah Menu Ideas: Best 5 Kosher Low Carb Foods To Serve At Hanukkah Dinner
Hanukkah Menu Ideas: Best 5 Kosher Low Carb Foods To Serve At Hanukkah Dinner
3 Dec 2010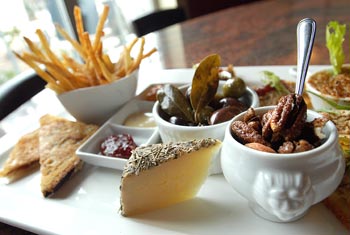 Hanukkah menu ideas: Best 5 Kosher low carb foods to serve at Hanukkah dinner.... Low carb and Hanukkah? Do they go hand -in-hand? Yes, they do. They do go hand-in-hand. The confusion arises because Hanukkah means fats, fats, and fats. Mostly fried delicacies are savored during the festival. But this blog aims at quashing the oxymoron: Hanukkah and Low carb. Have a look at these recipes, you will know why I said low carb and Hanukkah go hand-in-hand.
Cabbage Latkes

They are healthier alternative to fried potato latkes. These latkes are low in fats and carbs. If you go for cabbage latkes instead of the traditional potato latkes, you will be doing a favor to everyone. I bet they will be equally good as the regular potato pancakes.

 
You will need grated cabbage, cooking spray, chopped scallion, eggs, olive oil/canola oil, wheat flour, and salt-pepper to make these latkes.

 
Don't they sound interesting! Then start grating the cabbage.
"Beef"/Veggie Mushroom Brisket
If you have spare time, then I think there are fewer healthy options than this beef/veggie Mushroom Brisket. I think hardly you come across something fancier and as delicate  as this brisket. You can serve it during the Hanukkah dinner.

 
Exactly you will need salt and pepper, Morningstar "steak" strips meal starters (for brisket), ½ pound various dry mushrooms (small or sliced), vegetable oil, 1 sliced garlic clove, 2 small-medium sliced red onions, ½ cup dry red wine, 1/8 cup brandy, 1 teaspoon thyme leaves, 2 fresh sage leaves, 1 ½ tablespoons flour, 1 14 oz. can vegetable broth (can be made with vegetable or non-meat bullion if you like).

 
Clean mushrooms and keep it for boiling.
Fresh and Natural Applesauce (Parve)
I do agree with Nechama Cohen, Founder and Executive Director of the Jewish Diabetes Association (JDA) and author of EnLITEned Kosher Cooking, who says that its extremely difficult to switch to packed applesauce, once you taste this homemade applesauce.

 
You will need Granny Smith Apples, lemon juice, vanilla extract, salt, tea bags, and sugar substitute to prepare this applesauce.

 
Give it a try; I hope you will agree with me and Nechama.
Fruit Punch
I bet that everyone attending your Hanukkah party will vote for this low-fat, and low-carb punch.

 
You will need diet ginger-ale, diet orange soda, raspberry drink, oranges-sliced, lemon-sliced, frozen strawberries, frozen raspberries and blueberries for making this fruit punch.

 
This punch not only captivates the eater with its multi-hued appearance, but also encourages them to try out more. For an added effect you can serve it with a scoop of strawberry sorbet.
Cheese Balls

I am sure that this cheese ball recipe will be an instant hit with all your friends and family because it serves health by retaining the original texture and flavor of the cheese balls.

 
For preparing these cheese balls you will need farmers cheese, low-fat ricotta cheese, low-fat grated yellow cheese, scallions, Worcestershire sauce, and for garnishing you will require dill, parsley, paprika, nuts, and roasted sesame seeds.

 
If you wish to serve it as a sweet, then you can replace the scallions with vanilla extract and roll the cheese balls in cinnamon.
Image courtesy: blogcdn.com

 
Hanukkah Menu Ideas: Best 5 Kosher Low Carb Foods To Serve At Hanukkah Dinner