Top 5 Easy Traditional Christmas Dinner Menu

2 Dec 2010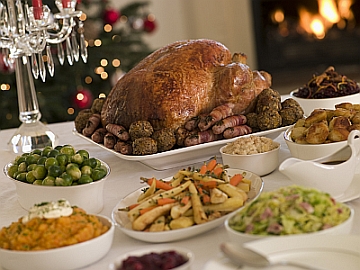 The thought of food is lingers on our minds as the impending celebrations associated with Christmas is felt in the air and  the year draws to a close. Here is a list of the Top 5 Easy Traditional Christmas Dinner Menu for you to contemplate, in case you are not satisfied with dishing out the same old fare year after year. It is not mandatory to cook the same dishes every time even if you want to serve a traditional Christmas dinner to your guests. Let us take a look and find out whether these recipes can be labeled as a part of an easy Christmas dinner or not.
Menu 1: The traditional roast turkey holds the sway here.  Heating the oven at exactly the right temperature will ensure that your signature dish is lightly browned. It is best not to go overboard with the stuffing either. Use a little amount of it and make sure to add a few crisply roasted nuts to the stuffing as it is sure to enliven the taste buds.  Ham is an excellent accompaniment to the turkey and it is imperative to consider a sweet side dish like a glazed apple sauce in order to balance the overly salty taste of the former.  Small quaint pies filled with minced meat along with dinner rolls take care of the staple and a huge Yule log forms the pièce de résistance along with a chunk of the traditional pudding as a fitting end to the easy Christmas dinner.
Menu 2: Roast beef can replace the traditional Christmas dinner Turkey particularly if you intend to have a huge crowd over. A side dish of sausage and bacon rolls should go down well too and a freshly prepared cranberry sauce will undoubtedly make it a traditional Christmas dinner even if you are thinking of introducing a couple of new dishes to the easy Christmas dinner. Topping up the dinner with the traditional plum pudding will no doubt make your dinner event the talk of the town in the days to come.
Menu 3:  What better way than to serve good old American food for a traditional Christmas dinner instead of dishes from faraway England? A Wassail Bowl along with a Pecan stuffed casserole and candied yams will lend your dinner an earthy flavor apart from it being an easy Christmas dinner to organize. Eggnogs chilled and served in chocolate cups take care of the dessert bit while the menu itself is not that far removed from that of a traditional Christmas dinner.
Menu 4: Christmas is a time for kindness and Godliness. Why not extend it slightly in order to encompass the animals and refrain from eating meat or poultry this year? A traditional Christmas dinner that is wholly vegetarian is enjoyable as well and can include delicacies like the Crudités served with a bean dip together with Shepherd's Pie prepared without meat and vegetable pancakes. A variety of caramels can serve as the dessert while a fresh green salad served at dinner will ensure that this easy Christmas dinner does not affect your health in any way.
Menu 5:  An easy Christmas dinner that can be organized without  any particular hassle becomes desirable particularly when you are hard pressed for time. A stuffed, roasted chicken together with braised cabbage and hash browns on the side is easy to eat as well and it is perfectly acceptable to feast on the caramel oranges instead of the heavier Christmas cakes and puddings.         
Image Courtesy: essentially-england.com 
Top 5 Easy Traditional Christmas Dinner Menu