Best 5 Gourmet Dinner Ideas

2 Dec 2010
Come December, and you have a string of festivals (from Hanukkah to Christmas) adorning the holiday season- any culture, tradition, the confluence culminates in celebration around the world. With the best 5 gourmet dinner ideas for Christmas, here is a way to muster all the energy with great food and make Christmas season a foodie's dream come true.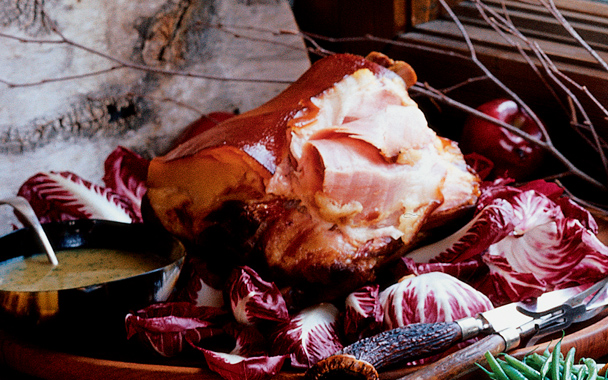 Gourmet dishes are signatory of the cuisines and culture it represents and is befits the festive season. So here are some best 5 gourmet dinner ideas to satisfy every foodie- from the connoisseur to the novice.

Our gourmet dinner ideas will revolve around 5 main dishes presented during Christmas -Turkey, ham, lamb, seafood and goose. Let's unravel as to how the gourmet applies his culinary skills to make all of them rated as the best 5 gourmet dinner ideas.

•    Ham :

Ham your way out through the culinary routes to discover variety galore to cook this meat for Christmas.
Herb-braised Ham :  Smoked pork shoulder, carrots, celery ribs, leeks, nutmeg, peppercorns, cloves, dry white wine with sprigs of parsley and thyme, unsalted butter,and a mélange of other ingredients go into spicing up the braised ham(in the oven ), with the vegetables to render texture, flavor and color. The ham is served with sauce.

You can have roasted chestnuts for a nutty crunch, kale butternut squash and pancetta pie for the 'sweet-tooth' indulgence, and the Endive and radicchio salad, will surely top up the gourmet dinner idea for Christmas.

•    Turkey :

Christmas food and turkey are very synonymous with each other. So here is a way to make your turkey meat soften up for the Christmas flavor.
Miso-rubbed turkey with turkey gravy : Onions, miso(soybean paste), black pepper, turkey with quills and feathers removed, turkey stock and other ingredients team up for this recipe. The onions, miso and softened butter are pureed in a food processor and the mixed butter is then used to apply to the turkey meat in layers, with salt and pepper sprinkled. The gravy is obtained by adding water to the roasted turkey and simmering it in a roasting pan.

Well, this turkey dish can go well roasted cauliflower and radicchio salad, creamy fennels and green soup to create ample 'stomach' for the delectable turkey; and pear crisps with vanilla brown butter, to add the sweet "quills" as a fitting dessert to the turkey.

•    Lamb :

Sheep and lamb, and Christmas carols couldn't have found a better tune to synchronize with, and so it is with lamb meat.
Rosemary lamb chops with Swiss chard and balsamic syrup : Here, fat-free lamb chops, dressed in garlic, salt, rosemary and pepper is broiled. The balsamic syrup is then drizzled over the chops with sautéed Swiss chards (in fried onions garlic mix); a "ba-lamb" dish serving the best 5 gourmet dinner ideas for Christmas.
There is Chopped arugula salad, chocolate cranberry cakes with bourbon whipped cream to pave way for 'sweet' memories and; carrot soup with toasted almonds to whet your appetite for the gourmet dish.

•    Seafood :

The number "7" yet again assumes significance from biblical references and the Italian culture epitomizes the  holy number with gourmet seafood dishes playing with seven varieties of sea food, sailing through as the best 5 gourmet dishes for Christmas dinner.
Onion Anchovy Galette : The onion anchovy galette, spooning around with anchovy fillets pepped up with garlic, tomato sauce and thyme to get wrapped up in all-flour dough and topped by caramelized onions to make baked pastry. There are crab cakes, seafood salad with fennel and green beans, and orange pudding cake, 'sailing through the seven seas' to cater to every palette and person.

•    Goose:

You don't have to wander away with the goose, which doesn't opine much on how it should be cooked, as one of the best 5 gourmet dishes for Christmas dinner, you have the-
Spiced-roast goose with dried fruit pan sauce : Goose in allspice and pepper dressing with onions and fruits reserves(made from apricot, prunes and figs put in boiling water and simmered) and roasted. And, the pan sauce made from shallots, armagnac, and apricot jam, to add on to the roast.  The goose can be sauced up with accompaniments such as Frisee, watercress and mint salad, baby Brussels sprouts with buttered pecans and potato parsnip puree.
For more on the above ->
The best 5 gourmet dinner ideas is all set to join the rising star, with the jingling bells, and the festive spirit reverberating  with gusto through the silent night.
Photo Courtesy : gourmet.com
Best 5 Gourmet Dinner Ideas