The 12 Christmas Sandwiches - Start Counting
24 Nov 2010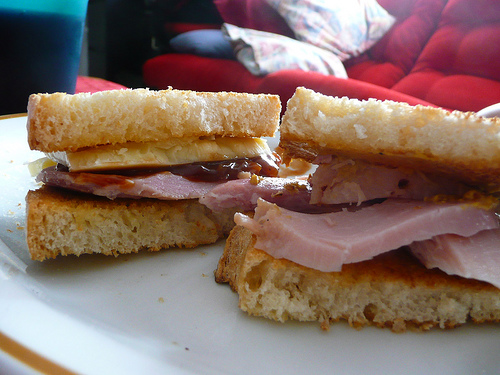 "The 12 Christmas Sandwiches - Start Counting Your Calories" announced a newspaper heading. Now you can feel the punch of festivity in the air because luncht imes have started getting more interesting and exciting. Fast food chains and supermarkets have entered into a vicious competition of outselling each other by offering amazing and terrible flavors. At times I do get confused about choosing between Christmas special turkeys and cranberry fillings offered by the food chains. These sandwiches may entertain you with their enticing tastes, but they may also make a severe dent into your weight loss goals.
Ian Marber, from the Food Doctor Nutrition Consultants, admits that most of the seasonal sandwiches offered by these food chains are simply amazing, and he says that previously the festivities used to last for three days at the most, but now it is stretched to little over six weeks. He further adds that while choosing a sandwich you should always: "Go for options that have more turkey than carbs, as this will give you more energy and keep you fuller for longer." The other way to choose healthy is to go for wraps.
You can go for these 12 sandwiches chosen by the panel of nutritionists.
Waitrose Christmas Pasty
What to expect: Turkey stuffed with potato, sage, onion, carrot and cranberries, in short-crust pastry.
Nutrition information: Fats: 27.6 g; Saturated fat: 11.9g; Packs in 536 calories in total.

Price  £1.99 ; Health rating **

 
Boots Boxing Day Sandwich
What to expect: Turkey stuffed with Wiltshire ham, which is braised with parsnip puree and red cabbage.
Nutrition Information: Fat: 9.7g; Saturated fat: 1.9g; Packs in 395 calories in total

Price £2.20, Health rating: ***

 
M&S "Count on Us "Turkey, Cranberry & Coleslaw
What to expect:  British Turkey And Cranberry Coleslaw Sandwich
Nutrition Information: Fat : 4.3g; Saturated fat:1.2g ; Packs in 275 calories in total

Price £2.30; Health rating *****

 
Sainsbury's Christmas Dinner Wrap
What to expect:  Smoked turkey, pork sage and onion stuffing, tomato, spinach, sweet cure bacon and cranberries, pork chipolata sausage with sage and onion mayonnaise, wrapped in a tortilla
Nutrition Information: Fat : 28.7g; Saturated fat: 8.3g; Packs in 580 calories in total

Price £2.60; Health rating **

 
Tesco Finest Turkey Feast
What to expect:  Turkey breast, Lincolnshire sausage planks and maple bacon, stuffed with pork and apricot, & served with cranberry sauce and mayonnaise, on the malted bread.
Nutrition Information: Fat: 26.8g; Saturated fat: 6.8g; Packs in 620 calories in total

Price £2.80; Health rating **

 
Starbucks Turkey Feast Sandwich
What to expect:  Turkey breast stuffed with sage, pork, onion, wild cranberry sauce, seasoned mayonnaise, and it is served with Beachwood smoked bacon and baby spinach on wheat grain bread.
Nutrition Information: Fat: 17.1g; Saturated fat: 4.8g; Packs in 431calories in total

Price £2.95, Health rating **

 
Eat Christmas Turkey & Cranberry Sandwich
What to expect:  The Turkey breast is smeared with reduced fat mayonnaise and cranberry sauce, which is served on the malted bread.
Nutrition Information: Fat 8.7g; Packs in 369 calories in total

Price £2.99, Health rating **

 
Pret A Manger Brie and Cranberry Christmas Lunch
What to expect: The brie is garnished with salad leaves, toasted pistachios, cranberry and port sauce
Nutrition Information: Fat: 33.3g; Saturated fat: 11.9g;

Price £2.99, Health rating **

 
Caffè Nero Cheddar and Festive Chutney Handmade Sandwich
What to expect:  Sandwich is made from slices of cheddar cheese and garnished with mixed salad leaves, date and plum chutney, fresh tomato and mayonnaise
Nutrition Information: Fat :23g; Saturated fat: 10.8g; Packs in 472 calories in total

Price £3.20,Health rating **

 
Pret A Manger Ham and Festive Chutney on Artisan Baguette
What to expect: Baguette is prepared from Wiltshire Cured ham, spinach leaves, Croxton Manor Mature Cheddar, and Christmas plum chutney)
Nutrition Information: Fat: 38.6g; Saturated fat: 21.3g; Packs in 790 calories in total

Price £3.50

 
Waitrose Special Edition King Prawn and Avocado Wrap with Cocktail Sauce
What to expect: You can enjoy the freshness of King Prawn and Avocado wrap drenched in Cocktail juice.
Nutrition information : Fat: 19.2g; Saturated fat: 5.3g; Packs in 430 calories

Price £3.40, Health rating ****

 
Costa Brie and Cranberry Panini
What to expect: You can enjoy Stone baked ciabatta bread smeared with French brie slices and cranberry sauce.
Nutrition Information: Fat : 15.6g; Saturated fat : 9.7g; Packs in 456 calories in total

Price £3.95 ; Health rating: *
Image courtesy:farm4.static.flickr.com
The 12 Christmas Sandwiches - Start Counting