Top 5 Easy Thanksgiving Meal Ideas
20 Nov 2010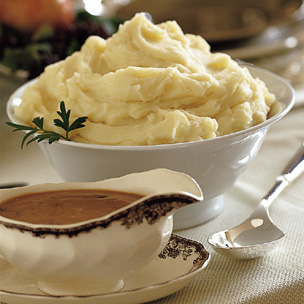 For all those who are cool enough to take it easy this Thanksgiving but daring enough to cook up a traditional storm in the kitchen, for them, here goes my list of top 10 easy thanksgiving meal ideas…
Top 5 easy Thanksgiving meal ideas - Turkey
How can a Thanksgiving dinner ever be complete without a turkey? So, in it comes! If you always struggled with that large whole turkey, stuffing and sweating and sweating and stuffing, whew… it's time to twist the recipe. Who said, you cannot enjoy a Thanksgiving meal without roasting a whole turkey? When you have turkey breasts to season and cook, who cares for that large sized meat? Season the breasts with salt and pepper and brush some butter on the skin. Stuff them in the oven for baking and Hola…you are done! Alternately, you can even fry the seasoned breasts in oil and serve the turkey breast cutlets with a sauce of your choice.
Top 5 easy Thanksgiving meal ideas – Mashed potatoes
Easy means non-traditional? Oh come on buddy, learn to be open minded! Going the easy way on your Thanksgiving dinner doesn't really mean you have to sacrifice the traditional recipes. For those delicious homemade mashed potatoes, rinse and cut the potatoes into 1 inch dices and boil them until fork tender. Now, drain the water, mix in salt and pepper, sour cream, shredded cheese and some chicken stock and mash the mixture until you reach the desired consistency. Yummy! 
Top 5 easy Thanksgiving meal ideas – Cheese macaroni
Well, now this one may not be that traditional or may be a traditional Thanksgiving dish since a decade or so, but whatever the case may be, friends this is easy and tasty. So, let's begin! Cook the macaroni al dente, mix some soft cheese with it and sprinkle a generous amount of shredded hard cheese over it. Now, bake the mixture till the cheese melts. Congratulations, your cheese macaroni is ready to eat!
Top 5 easy Thanksgiving meal ideas – Veggies
For a side dish, chop the bacon into tiny pieces and fry the pieces in the skillet. Now, add some olive oil and spinach to the bacon, season it with salt and pepper and sprinkle the cooked dish with parmesan cheese. Easy does it!
Top 5 easy Thanksgiving meal ideas – Pumpkin pie
If you are excited by the name of cocktails but scared at the very thought of making one for the Thanksgiving dinner, then, let's settle for a recipe that will keep the excitement up and drown down the fear. Pumpkin Pie is the lucky one I select. Simply, blend in an oz. of coconut rum, half an oz. of kahlua, ¾ can of pumpkin pie filling, 2 oz. of milk and some ice and serve in a rimmed graham cracker. B-E-A-utiful!
Picture Source: middlezonemusings.com
Top 5 Easy Thanksgiving Meal Ideas