8 Things To Do With Pears This Fall
15 Nov 2010
Autumn is not just about apples, it's also the time when the topsy-turvy, tear shaped pears come into season. For the benefit of all those who nurse a special fondness for this fruit but are not sure how to use it, I bring to you a list of 8 things to do with pears this fall season.
Every autumn I see that almost all food networks, websites, and magazines get inundated with articles on ways to use apples and pears rarely get a mention. This probably is due to the high fragility of the fruit. My list of ideas for fall recipes with pears is designed to overcome this drawback of the fruit and bring out the best flavors and texture of the pear. So read on:
1.     Pear Tart: Probably the most popular pear recipe, tarts are best prepared with firm, just ripe pears. Make the pie pastry using your favorite pie crust recipe, arrange slices of pears over the crust and sprinkle sugar and spices after every 2 layers. Cover the pie and bake till done. You can add an interesting twist to this recipe by including pecans, berries and other ingredients into the pie filling.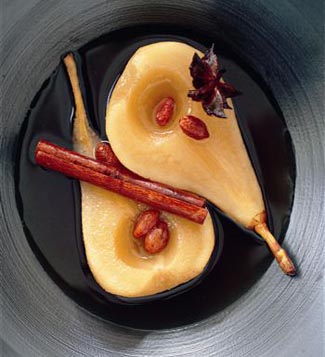 2.       Spiced Pears: This is the simplest pear recipe that you might ever find. It uses just 4 ingredients and transforms a simple pear into a spicy and exotic dish. Cut pears into halves and poach them in simmering sugar syrup spiced with nutmeg and cinnamon. Cook the pears for 5 mins, drain the pears, cool them and serve.
3.       Pear Pizza: If pizzas are your thing then you will love this recipe. There is nothing much to making this recipe actually. Spread your favorite pizza sauce over the base, arrange thin slices of pears over it, you might want to add other ingredients like green onions, bacon, tomatoes, olives, etc. to give an extra zing to the pizza, spice it up with some pepper and salt, top it with cheese and bake till done.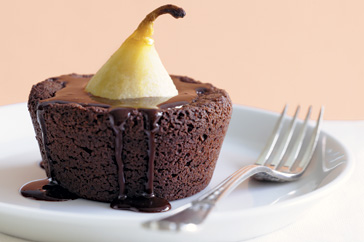 4. Pear muffins and breads: These are the best ways to use overripe pears. Just remove the core, mash the fruit into a rough puree consistency, and add it to your favorite muffin or bread recipe. You will have to, of course, adjust the sugar content to compensate for the sweetness of the pears. The pear will give the muffins and breads a unique flavor and aroma that no other fruit can.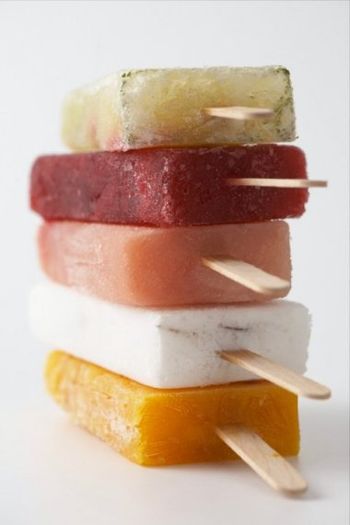 5.       Pear sauce and ketchup: These are actually very easy to prepare and a real good way of using up pears that have gone bruised and mushy. Puree the pears in a blender, and cook them with nutmeg and cinnamon to make a brown colored mildly flavored pear sauce. You can add caramelized sweet onion paste, garlic salt, and other spices to the mixture to turn this basic sauce into exotic pear ketchup.            
6.       Pear Popsicle: Popsicle is not just for summers, they are a treat during any time of the year. Just puree the pears and freeze them in Popsicle molds. You might want to add some sugar if you want. Pear Popsicle is one of the best ways to make finicky kids eat their pears. You can also top shaved ice with pear puree for a nice twist.                                                   
7. Pear Risotto: I recently tasted this combination at a restaurant and fell in love with the unique combination of flavors that the main ingredients bring about. In my version of this recipe, I prepared the risotto with wine sauce and Gorgonzola cheese and just threw in bits of chopped pears along with sautéed onions and garlic along with traditional herbs and spices. The result was a delectable mix of flavors, not too spicy or sweet- just right.
8.  Pear Cider: There is nothing better on a fall noon than a glass of fruity and mildly spicy homemade pear cider. All those who thought this was difficult will be surprised to know how easy it is to make pear cider.  Puree some pears and cook it with double the amount of water, and spices like cloves, cinnamon, and nutmeg. Once sufficiently cooked, strain the mixture and mix it with pear vodka (optional), sparkling apple cider and club soda – your pear cider is ready to be served.
Well, these are some of my favorite ways of using pears. However, every pear lover will surely have their list of things to do with pears. Do share some of your favorite pear recipes. Also, remember to check out more recipes with pears from ifood.tv.
Image Credits: foodbuzz.com, recipetips.com, simply-delicious.co.za, candlemaking.com, taste.com.au, socialcouture.typepad.com, knowledgegalaxy.net
8 Things To Do With Pears This Fall