How To Organize A Moroccan Dinner Party

12 Nov 2010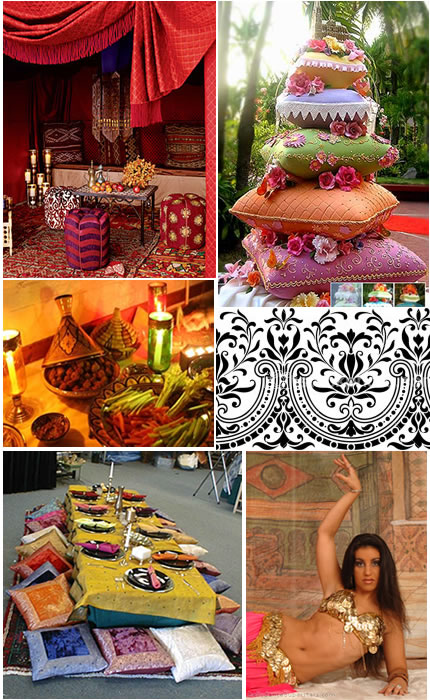 Organize a Moroccan dinner party at home for an opulent, colorful and intriguing evening to spend with friends. An insightful guide on how to organize a Moroccan dinner party will explain all about the food, ambience and activities for an ultimate Moroccan experience.
Dinner Menu
A royal menu has to be served on a Moroccan dinner party. Serve all Moroccan dishes from starter to main course and dessert.
Starters
Start serving nibbles with cocktails. Mixed Olives with Harissa and preserved lemon is the perfect dish to commence the dinner party food. Serve a couple of varieties of salads with vegetables, chickpeas, olives and lentils. Roasted eggplant with yogurt dip is an excellent starter and flavorful carrot soup with Moroccan spices would work great.
Main Course Dishes
Main course meal should be elaborate with dish Kumquat lamb tagine and a hot vegetable and meat stew. Serve main dishes with Couscous, a very popular Moroccan side dish. Serve food with Moroccan breads.
Desserts
Serve some rich chocolates, almond and sesame cookies plus Moroccan tea biscuits for desserts.
Drink
Conclude the dinner with refreshing traditional Moroccan mint tea.
Decoration

Use lots of decorative and textured fabrics. Exotic fabrics with embroidery, glass, beads and crystals work great. Select fuchsia, golden, orange and blue colored fabrics. Decorate fabrics on the walls creating a tent like environment which conjures up Moroccan's luxury. Use light weight organza, chiffon and satin fabrics.
Decorate the dinning table with petals of flowers, oranges and dry fruits in golden colored vessels. Cover the table with golden color linen; serve in Moroccan style crockery and glasses.
Keep the sitting arrangement on low tables with a lot of colorful throws for the guest to rest.
Use candles and lanterns for dim lighting.
Activities
Hire a group of professional belly dancers, soothsayer and tarot card reader.
Set hookah for smokers.
Play Moroccan music.
Keep a place for tattooing for decorating belly and body parts, get henna tattoo artists.
Organizing a Moroccan dinner party is as interesting as being a part of it. Enjoy every bit of the legwork that you might need to do, after all you are going to host a luxurious Moroccan party.
Image Courtesy:   bridesbuzzing.com
How To Organize A Moroccan Dinner Party