How To Organize A Kebab Party?
7 Nov 2010
Kebab, kabob, kibob or Qabab, whatever way you call it, these meat dishes from Persia, today's Iran, are loved across the world because of its unique and delicious taste. In English, kebab generally refers to shish kebab served on the skewer. However, in Iran, kebabs can be roasted, grilled or even stewed. It can also come with sandwiches or sometimes even in a bowl. If you want to bring Iranian taste of kebabs at home, here are a few tips on how to organize a kebab party.
Introduction: In Iran, lamb is traditionally used in making kebabs. However, its ingredient may vary depending on local tastes and taboos. People often like kebabs made of beef, goat, chicken, pork, fish and seafood. Vegetarian kebabs made of tofu and falafel are also quite popular across the Asian, the Middle Eastern as well as the African cuisine.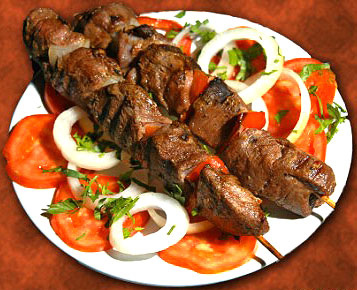 Popular Kebab Varieties: Shish Kebab: Your party will be a huge hit if you include a few popular varieties of kebab to your party menu. Some of the most loved varieties are shish, döner, kathi, kakori, chapli, burrah, kalmi, chelow and tasti. Skew or grill any kind of meat to make shish kababs. Threading cubes of vegetables like tomato, bell pepper, eggplant, onions, and mushrooms on a skewer is also a great idea. Serve it with chilled beer or wine for alcoholic drinkers, and tea, coffee, soda, juices, shakes or lassi for your non-alcoholic drinkers.
Döner Kebabs: Turkish people make this very interesting dish with lamb, beef and sometimes even with chicken. This is also called rotating kebab where the meat is slowly roasted on a vertical rotating spit. Serve it with pita bread or salad and French fries. This delicacy is quite popular in Australia, New Zealand, Canada and in several European countries. In countries like U.K. and Australia, it is a part of night culture and is served between 10pm and 4am time in local pubs and clubs. Try some Turkish drink with Doner kababs.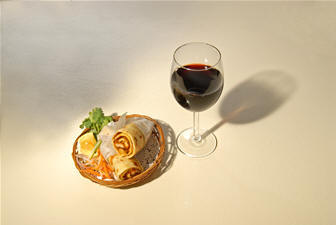 Kathi Kebabs: Those who love meat cooked in a tandoor, kathi kebabs are for them. Kathi kebabs are made of chicken, beef or lamb with an addition of spices and are slowly cooked in a tandoor with skewers. It tastes great when served with rice, breads, mint sauce and onions. Pair it with any chilled beer like Heineken, Amstel Light, Samuel Adams or Harpoon IPA for everlasting pleasure. Serve wine for wine lovers.
Other Varieties: Some South Asian varieties of kebabs like kakori, burrah and galouti are loved worldwide because of their delightful tastes. Mince goat meat with spices and grill kakoris on a skewer. Serve it with thin Indian bread called Roomali Roti, mint sauce and onion. Serve red wines like Montes Merlot, Cline Zinfandel, Guigal, Cotes Du Rhone, or white wines Pacific Rim Riesling, White Zinfandel Leaping Horse for your wine lovers. Mango Mimosa or Spanish Cava Cristalino Brut are some of the sparkling wines that go really great with such kebabs.
Image Credit: kebabiman.tumblr; flickr; singaporemirror
How To Organize A Kebab Party?