Top 10 Cucumber Dishes

6 Nov 2010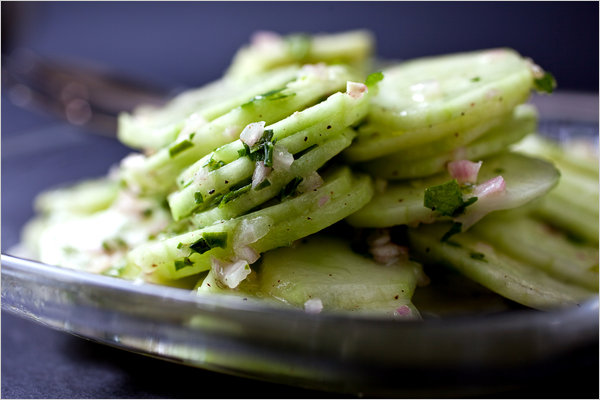 Usage of cucumber goes much beyond plain salads; it can be used in innumerous ways like any other vegetable. Here's a must try top 10 cucumber dishes to enjoy this ultimate cool food; believe it or not they are all as cool as cucumber itself.
1. Cucumber curry
Cooked cucumber is nearly as crunchy as raw cucumber. Cut cucumber into cubes, cook them with onion and spice it up with curry powder. Use chives for seasoning. Serve cucumber curry as a side dish with lentils, rice or grain dishes.
2. Creamy Cucumber Salad
Cucumber in French cheese and yogurt provides a perfect much needed break from the usual cucumber salads. Use a lot of freshly ground pepper in a mixture of fresh farm cheese and yoghurt. Refrigerate and serve it cool.
3. Halibut with Cucumber and Dill
Halibut baked with cucumber, dill and white wine is an ultimate recipe to try out. Served hot as a main course dish.
4. Iranian Tomato and Cucumber salad
A number of fresh herbs used in this Persian style salad breaks the monotony of bland cucumber salad. Parsley, mint, garlic and freshly grounded pepper enhance the taste of cucumber by manifolds.
5. Cucumbers Vinaigrette
Thinly sliced cucumber tossed in champagne vinegar makes an extraordinary dish.
6. Vietnamese cucumber and shrimp salad
This is a sweet, crunchy, crispy, wilted and hot to taste Vietnamese salad. This dish is perfect to serve as an appetizer or starter.
7. Chilled Cucumber Soup with Mint & Yogurt
Chilled cucumber soup with mint an yogurt is a refreshing cool dish to beat the summer heat. Cucumber blended with chives, mint, parsley, milk, sour cream and yogurt, seasoned with pepper make an ultimate soup for summer.
8. Korean Cucumber Pickles
Pickle cucumbers in Korean style with ginger, garlic and chili pepper for a spicy dish.
9. Sweet and Sour Cucumber
A Chinese appetizer, sweet and sour cucumber is served in all Chinese restaurants. Its refreshing as well as healthy.
10. Cucumber Casserole

Cucumber casserole is an utterly delicious dish. It is made with a variety of vegetables baked with cheddar cheese, butter and egg. Cucumber casserole is a great way of converting cucumber into an interesting dish.
Image Courtesy: nytimes.com  ,  amazonaws.com
Top 10 Cucumber Dishes