How To Host A Cookie Swap

31 Oct 2010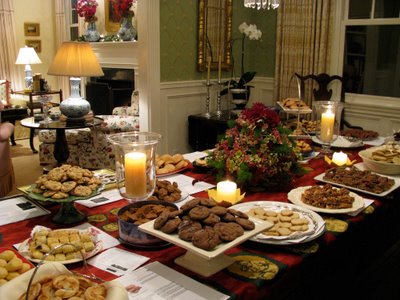 Holidays are meant to be a time for relaxation and enjoyment but sometimes just the opposite happens and you end up in cooking the whole day and preparing for the party. If you wish to socialize and cut down your baking and cooking time at the same time, you need to learn how to host a cookie swap party. This is a very interesting party, where you coordinate with your group of friends, relatives or family and share cookies which have been baked much ahead of time. All this means, that you can have a great family gathering without having to worry what to bake or cook. Since everyone will be bringing their own baked goodies, it is going to be fun, entertaining and a day to have some variety of cookies too.
When you are hosting a cookie swap party, you need to make some plans in advance like when you are going to have the party and number of people who will be attending such a party. Once you have put down the names of everyone you can start making calls and inviting them for the cookie party. Do not forget to mention that each guest needs to bring 2 or more varieties of cookies in the party. When everyone gathers for the party, you will notice that you have several varieties of cookies to be eaten and it is more than enough for everyone.
If you are puzzled about the number of people whom you wish to invite for the party one great way is think about how many types of cookies you are looking forward to. Suppose you plan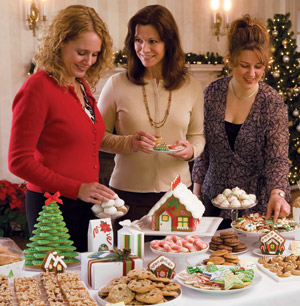 a cookie swap party for 20 people, it means you will have at least 60 varieties of  cookies and so you can plan your party. You can speak to your friends about what else they would like to have for such a party – you can prepare such food items, since you will be hosting the party. Other foods which you can include in very less time are sandwiches, pizzas, chips, candies, cakes and even dried fruits. You can purchase them and place them on the table before the party begins.
Cookies taste best when eaten with hot tea, coffee or fruit juices for anyone who is not fond of beverages. Keep adequate number of cups, glasses, plates, spoons, tissue paper and other items ready, before your guests arrive. Ensure that your coffee and tea machine is running properly so that your guests can make their own drinks as and when they prefer.
You need to take care for their entertainment. Arrange for good music and a place for your guests to dance also. If you have invited kids, you need to keep enough space for them to play freely and have fun. Chairs should be adequate for everyone to sit. Ensure that the place is well ventilated and clean.
Image credits - lainbloom.blogspot.com 
How To Host A Cookie Swap