India's Best Foods
MUMBAI: Bombay, we once called it.....but now it's Mumbai. And it is a favorite large city in India, with a dizzying array of dining options. You could, of course, eat here for a long time without finding anything particularly "regional"--Chinese restaurants, Italian restaurants, etc.--but if you want to focus on what's local, that's also easy to do.
Mirchi, gawar, karela & gilora - or - chillies, beans, bitter gourd & gilora
at Mumbai's Bhaji Gulli. (Vegetable Street)
 What's not so easy is defining it. Let's start with Mumbai's position.....on the Western coast of the central state of Maharashtra.....which means there are lots of Maharashtrian restaurants.
Batata vada
 But this too is a little fuzzy. Generally speaking, Maharashtrian food is gentle, subtle food--very little roasting, little deep-frying, lots of steaming and pan-cooking. Vegetables are very important inland (there's a famous sub-regional Maharashtrian cuisine known as Varadi), and on the coast seafood is key (Konkan being the most famous area for coastal Maharashtrian).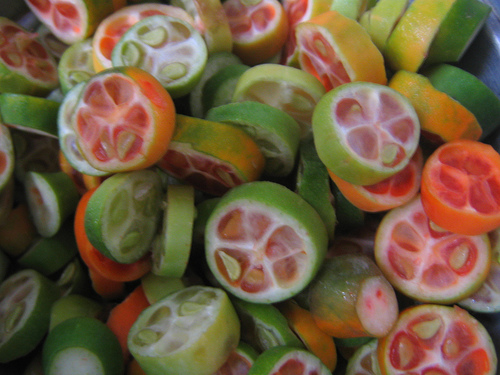 Tondli, a vegetable that grows on creeper  is used predominantly in the cuisines of Maharashtra and Gujarat. It is naturally sour, and tastes great sautéed with onion, seasoned with garam masala and sprinkled with dried mango powder before serving. 
 Some hot-weather elements come into play in Maharashtra, though it's not as far south as "southern India"--peanuts, peanut oil, coconuts, tamarind, jaggery (a dark palm sugar), and eggplant (Maharashtra's favorite vegetable).
         Mumbai is also in proximity to another state, Gujarat--which is the home of India's largest vegetarian population, and the home of a million creative ways with vegetables. Vegetarian Gujarati restaurants abound in Mumbai.
idlis and sambar are comfort food and though it originates in South India, now, I think, its Pan-Indian food !   I believe even the World Health Organisation has declared idlis one of the most nutritious and safe food to have outside home. Nutritious as its made with lentils=proteins and is fermented=probiotic and safe as its steamed. 
         Three other key factors. Since Mumbai is on the Arabian Sea, it is a city of fish markets, fish restaurants, fish lovers. You can find many different types of preparations, but they are often surprisingly simple--highlighting the fish itself. Secondly, since Mumbai is a large, sprawling, life-in-the-street kind of city.....you will find great street food here, with snack stands lining the famous Chowpatty Beach.
Food stand at Chowpatty beach
Lastly, Mumbai has long been a melting pot of various cultures.....and you will certainly find here an intriguing array of old-fashioned Muslim food, Parsi food, even Jewish food.
Parsi Food: Dhansak and Rice
Restaurant: Jimmy Boy, near Bombay Stock Exchange, Fort
Location: Mumbai, Maharashtra, India
"Dhansak", often prepared with mutton, chicken or potatoes, is the most well-recognized Parsi dish. Here, it is served in a copper vessel, with brown rice, salad and vegetable kababs.
This photograph was published by "Xplore" (Page 22-23, Magazine section, Times of India, New Delhi edition, 10-Jun-2006), as editorial illustration. 

MUMBAI:
TASTINGS LOCATION GUIDE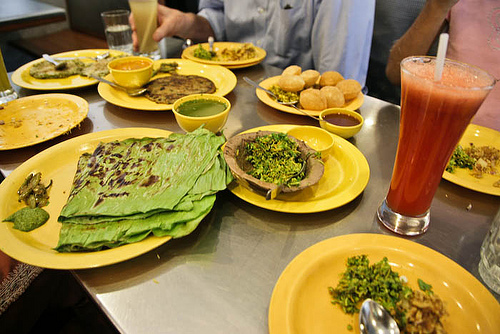 An impressive lunch at Swati Snacks, an insanely popular diner-esque lunch spot in Mumbai. On the left are pancakes steamed in banana leaves. The glass on the right is watermelon juice.
         My number-one culinary discovery in Mumbai on this trip, hands down, was handed to me on a silver platter by a new friend--Rashmi Uday Singh, who is one of India's greatest restaurant critics. I had proposed to Rashmi a few vegetarian places I wanted to check out in Mumbai--to which she said, "Just get over to Swati Snacks in the Walkeshwar area!" Which I, of course, did.....and, after meeting the delightful, highly-esteemed owner Asha Javeri, I knew exactly what Rashmi was talking about. Wow! This small place--with a small kitchen that is nevertheless populated by almost a dozen chef-fy chefs--turns out perhaps the best Indian vegetarian food I've ever had!
         The sensation at our meal was panki chatni, which none of us had ever heard of before. It is a crepe batter, basically, made with rice flour and, in this version, lots of garlic. The chefs slather the batter on a broad banana leaf, top with another banana leaf--then cook this banana leaf sandwich on a hot griddle. Within 2 minutes, the "pancake" is done--which they ceremoniously, and neatly, roll out of the banana leaves onto your plate. What a texture! What an exotic taste!
        
Bhelpuri
 Swati Snacks is also the perfect place to find Mumbai's favorite street snack, bhel puri, usually served in a rolled-up newspaper cone. Here, you get it on a plate.....and you get a terrific version, to boot! Bhel puri-is basically a combo of crispy little carb bits (like chick-pea noodles, puffed rice, wheat flour chips), tossed together with raw veggies (onions and tomatoes) and thin chutney sauces (mint, tamarind and date). Mumbai's most venerable bhel puri place is the 130-year-old Vithal, which I didn't get to check out. But if you do.....please let me know how you liked it!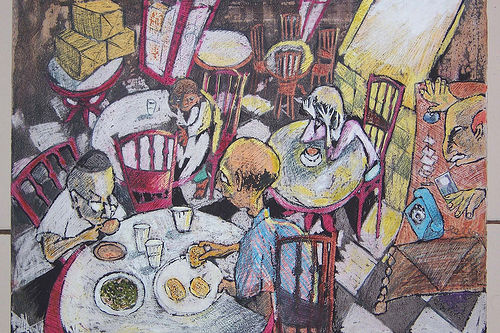 Yes, I was all over street food on this visit (India is not a gastro-intestinal disaster waiting to happen!) and, accordingly, discovered a great Mumbai breakfast idea, popular in the Muslim community. It is Kheema Pao.....minced goat in a spicy gravy served on wonderful, soft, very Western-looking buns. When I told my local guide we were looking for this, she took us to Olympia Coffee House, on S.B. Road, just a few blocks behind the grand Taj Mahal Hotel (where we rested our heads).
Sweet Falooda
Olympia's a dive, of course--but what great kheema! And.....it was here that I discovered falooda, India's answer to bubble tea: it is a mix of milk, rose syrup, tapioca-like seeds, noodles, and Indian ice cream. Yum!
         Truth be told, I didn't want to avoid expensive restaurant food entirely in Mumbai.....particularly since one of my favorite seafood restaurants in the whole world is located here! It's called Trishna.....and at its narrow tables you will feast on beautiful fish and shellfish hauled in from the Arabian Sea, simply cooked, lavishly charged. Everything's good at Trishna--but do not even consider passing up the pricy but succulent king crab with garlic butter sauce.
         Lastly, at an extraordinary lunch with local flavor, one of Mumbai's great seafood treats was served to me--the famous Bombay Duck, which, in the winter, is a fresh little fish that gets boned,  spiced, coated and deep-fried. Terrific.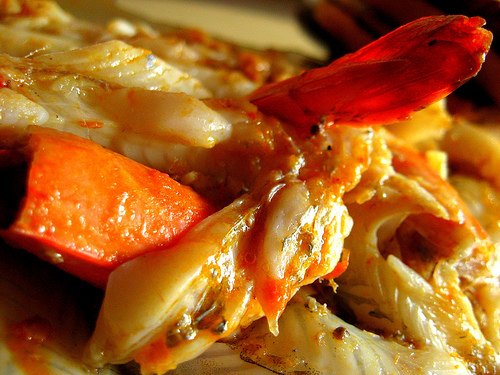 Mumbai Duck with moked Prawn
But it was only one of the show-stoppers at our feast, on Nehru Road, near the airport, at The Orchid, a lovely hotel that's part of a luxurious-but-responsible hotel group called "Ecotel." Food and beverage manager H.P.S. Barsal pulled out all the stops for us in the expansive, decorative dining room: a creamy goat curry was one of the best meat stews I've ever had; a local flaky pastry stuffed with chili paste was insanely vivid; and the little pop-'em-in-your-mouth dried chili pickles were full of mysterious flavor.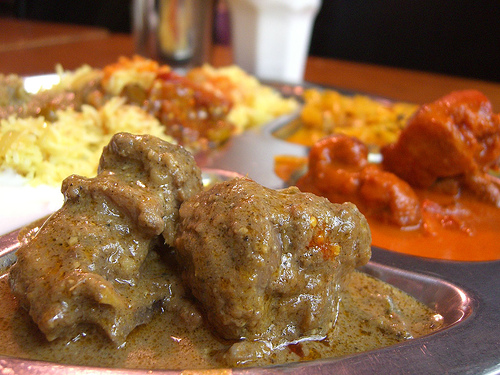 HYDERABAD:
         I love the food of this exotic south-central Indian city. Hyderabad's uniqueness was assured centuries ago, when the Muslim rulers of the north (the guys who built the Taj Mahal) lost their power base and fled south. Hyderabad, already steeped in southern cooking tradition, was the place where they established a new empire.
The northern Moghuls brought with them the best of northern cooks, northern cooking ideas.....which got fused with the cooking ideas of the south. So, in Hyderabad, you have the kebab center of the south, the rice pilaf center of the south.....but shot through with incredible Hyderabadi spicing. And make no mistake about it--they know how to spice in Hyderabad. The city sits in the state of Andhrar Pradesh.....which is known to have the hottest chiles, and the hottest food, in all of India. One more Hyderabadi note: it is the birthplace of Prasad! So when we worked on these dishes in Prasad's kitchen.....he was showing me his mother's food!
HYDERABAD:
TASTINGS LOCATION GUIDE
         For a restaurant..... "big, sprawling, crowded-beyond-all-measure" does not necessarily mean "compromised-in-standards"--as I've now observed twice at the Hyderabad institution Paradise (which is actually in Hyderabad's "twin" city, Secunderabad).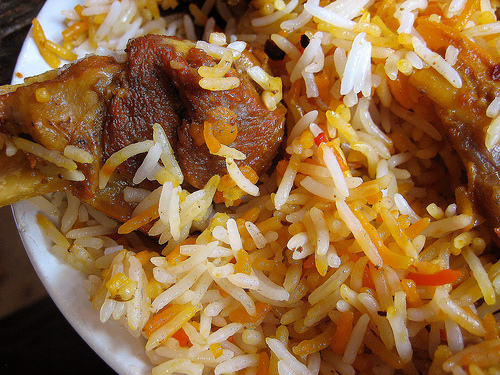 Paradise is a biryiani house--a place where everyone goes to sample Hyderabad's most famous dish, the spicy local version of the sealed-pot pilaf that came down from the North. And if they don't go there to sample it.....they have it at catered parties, or at home. For Paradise, the urbane owner Ali Hemati told me, sells over half a ton of biryiani.....every single day!
         Prasad and I paid special attention to this multi-layered, complex, melt-in-your-mouth rice casserole.  But I do encourage you to sample this world-class dish on its home turf. I also encourage you to taste kebabs at Paradise--for Hemati's kitchen also turns out exquisite versions of these northern-turned-southern skewers. Chicken tikka, fish tikka, paneer tika--some variations gilded with garlic, or cream, or herbs, or saffron--are simply wonderful here.
         Always longing for the street, however, I let Prasad lead me down to the lake that separates Hyderabad and Secunderabad--after our large Paradise meal!--for a  late-night street version of Hyderabadi kebabs.....and I wouldn't have missed this experience for anything! Facing Hussain Sagar Lake, on Middle Tank Bond, is a stand called Bademiyan Kababs, founded in 1954, serving terrific chicken kebabs, lamb kebabs, ground lamb kebabs. They are less complicated than Paradise's kebabs, with a fresher "meat-meets-grill" kind of taste.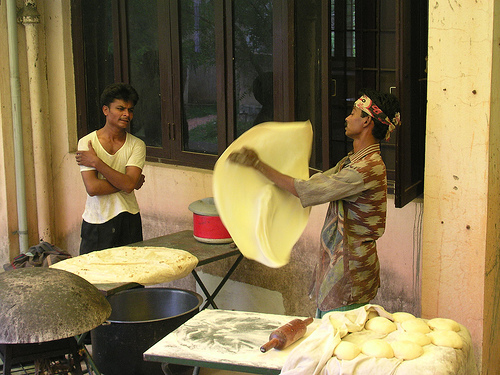 Firming up this funky place's appeal is the great spicy green sauce, and the wonderful, folded griddle breads called roomali (which translates as "handerchiefs").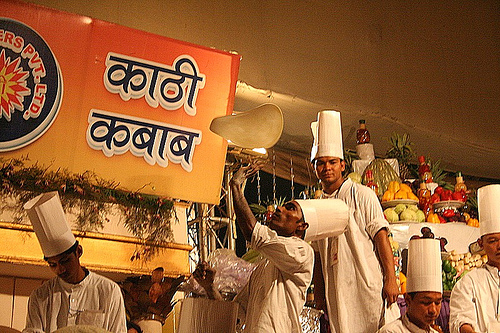 Of course, there are also other sites in Hyderabad for biryiani--which we learned when Pradeep Khosla, the executive chef at our hotel, the Taj Krishna, gave us a remarkable lesson in the preparation of Hyderabadi Biryiani. We learned so many key things: the goat (or lamb) must be tenderized with green papaya purée; one flavor key is the addition to the casserole of many, many deep-fried onions; the finished biryiani may sit, with its seal unbroken, for hours and hours, just waiting a dramatic debut at your dinner party! Next time in Hyderabad, I will eagerly go back to the Taj Krishna for some of Khosla's masterpiece.
         Lastly, in Hyderabad, a gorgeous discovery--though one that had me worried before the food got served. Why? Water Front.....also on Hussain Sagar Lake.....looks nothing like a restaurant in Hyderabad, India. It looks more like some trendy, modern nightclub that could be at home on the waterfront of Queens, looking across to Manhattan through soaring picture windows. And that's why I freaked.....I mean it, I freaked!.....when the delicious food started coming out of this kitchen.
We focused on local Hyderabadi food, of course....but the chef is highly adept at Thai food as well......and Chinese food! Good thing he is.....for it is here that I decided one of India's hottest food trends.....a crazy fusion cuisine called Indo-Chinese.....is absolutely worth seeking out!  Apparently begun in the Chinese restaurants of Calcutta, Indo-Chinese cooking features ingredients that are usually Indian.....though there can be Chinese ingredients as well. The cooking techniques--such as stir-frying--lean towards the Chinese. And the taste? Some sublime composite of Szechuan food and southern Indian food.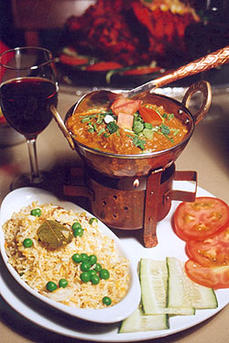 I saw a lot of it in Hyderabad.....particularly the dish known as Chicken 65, which reputedly started in that city. A restaurant there had its dishes numbered on its take-out menu, and the chicken dish numbered "65" became so popular that it gained the name "Chicken 65;" today, menus all over Hyderabad, and India, are offering "Chicken 65!". At Water Front, you can feast on the best version I've ever had.
some restaurant info based on David Rosengarten's TASTINGS


India's Best Foods