Mexican Wedding Cake Recipes

27 Oct 2010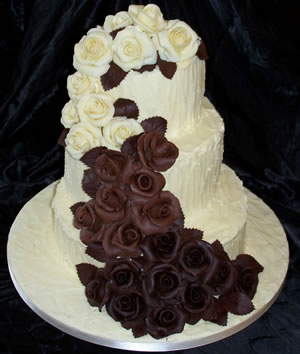 The uniqueness of Mexican wedding cakes is that these are prepared in a variety of flavors. Here are some unique Mexican wedding cake recipes for those who would like to bake these at home to enjoy their simplicity and taste. The ingredients used in the making these cakes are similar to what we use in preparing our everyday cakes, but one or two special ingredients are added which changes the look and taste of the cake. Most wedding cakes have white frosting and are two or three layered – however, exceptions are always there and variations can be brought as per the desires of the couple.
Check out some popular Mexican wedding cake ideas – Try them out and have some great fun.
Mexican pecan cakes – These cakes are prepared with pecan halves, granulated sugar, cinnamon, salt, unsalted butter and all purpose flour. The ingredients of this cake are well mixed and then refrigerated after wrapping it in a plastic foil. After two hours the cake is baked. The cake is dusted with confectioner's sugar being serving it to the guests.
Pineapple Mexican wedding cake – Crushed pineapple along with its own juice is used in making this wedding cake. Walnuts and pecans are added to enhance the taste of this exotic cake. Since this is a wedding cake, a rich cream frosting is added to make it look rich. The frosting also has a pineapple flavor which adds to its taste.
Mexican cocoa cake – This is a very common chocolate cake with a sumptuous icing. Butter, flour, sugar, milk, baking powder, eggs are some common ingredients which are used in the cake. Cocoa powder is added along with a pinch of salt  make it a cocoa delight. Creamy chocolate frosting with white sugar décor helps to make this cake look exotic.
Mexican chocolate wedding cheesecake- To make this delicious cake you will need graham crackers, chopped almonds, cream cheese, granulated sugar, eggs, semi-sweet
chocolate, prepared coffee, vanilla and almond extracts and cinnamons for some great flavor. Graham crackers are crushed to make fine crumbs and mixed in a saucepan with other ingredients. The rest of the process is similar to the making of other cakes. You can add a glaze to your favorite cake by brushing it with semi sweet chocolate.
Orange Almond wedding cake – This is a very nutty orange flavored cake. Milk, flour, sugar along with other common ingredients used in baking a cake are used to prepare this cake. Orange peels, sliced almonds, orange flavored liquer, milk and cream add a special flavor to the cake. White cream butter frosting makes this the perfect cake for any Mexican wedding.
Image credits - ivorytowercakes.com, oodora.com
Mexican Wedding Cake Recipes