Spanish Cuisine
 I have been on a Spanish kick this week.  Perhaps it began when I took mom to the Spanish Table last week in Berkeley.  I keep thinking of the wonderful time we had the last time we were in Spain, or perhaps it was the bottle of Rioja we had this weekend, or the smoked Spanish Paprika aroma haunting me.
I keep thinking of how Spain and Portugal have affected our cooking over the years.  These two countries although very different are intertwined in history.  Did you know the Portugese can understand the Spainish, but the Spainish can't understand the Portugese?
Most of the spices used in Spanish cooking today came to Spain over several centuries, from distant lands and by many routes.  Arab merchants and  introduced many herbs and spices, including mint, coriander, cinnamon, and cumin.
In 1492 Christopher Columbus sailed from the Spanish port of Palos de la Frontera on his first voyage in search of a westward sea route to the spice-producing lands of Asia i.e.e Malabar Coast of India.   Instead, he bumped into some islands of the Western Hemisphere, an accident of navigation that changed the history of the world--including its culinary history.
Capsicum peppers were among the many new plants that Columbus brought back to Spain from his four journeys to the "New World" he had inadvertently found. And as early as 1493, these peppers were being grown in Spain, at first only as ornamental plants, but soon for use in cooking, too.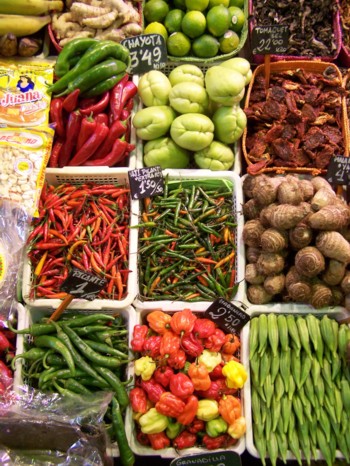 An assortment of fresh green and red peppers at La Boqueria foodmarket in Barcelona
When Columbus first encountered pungent-tasting peppers in the Caribbean islands, he called them pimientos, a derivative of the Spanish word for "pepper" (pimienta), the completely different spice he was actually seeking in Asia. That's why today all Capsicum peppers in Spain--from large to small, mild to hot--are called generically pimientos, whereas pepper spice from Asia is pimienta negra (black pepper), pimienta blanca (white pepper), pimienta en grano (peppercorns), or pimienta molida (ground pepper, black or white). Small, hot, dried red Capsicum peppers are sometimes also referred to as chilis, after the Nahuatl (Mexican) term used for the pungent pods on the other side of the Atlantic Ocean.
Spanish Paprika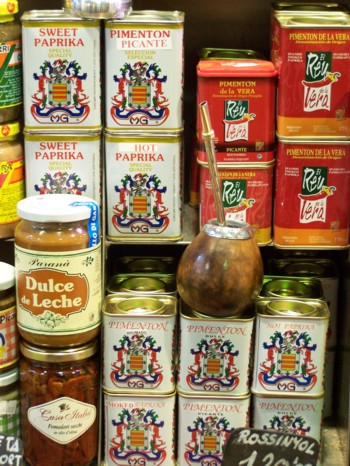 An assortment of Spanish pimenton (paprika) at La Boqueriafood market in Barcelona
When ripe-red Capsicum peppers are dried and milled into powder in Spain, the resulting product is the distinctive paprika spice known as pimenton.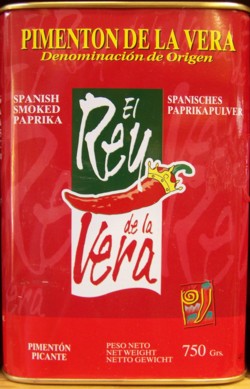 Nearly 80 percent of all the pimenton produced in Spain goes into making the many kinds of deep-red chorizo sausages for which the country is also famous. The remainder is used in cooking a wide range of dishes, from tasty tapas to hearty fish soups and meat stews. And a small amount of pimenton is exported to other countries, as more and more people outside of Spain are discovering the distinctive flavor of Spanish paprika, which is different from the other well known paprikas produced in places like Hungary and the United States. I use this amazing smoked paprika in not just Spanish cooking but also Thai, Indian, Serbian and others.  It is an amazing earthy flavourful spice.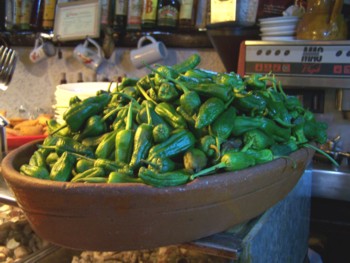 Galician pimientos de Padron waiting to be fried in a Tapas bar in Madrid.This past year I grew a few plants of Patron peppers in my garden.  They are a lovely capsicum, not so spicey but a nice lingering flavour.  I love them just  fried in olive oil with a little sea salt and served as a tapa.  A very simple dish and the bartender will warn you, "Unos pican y otros non"--"some are hot and the others are not"--but until you bite into them, you don't know which of those little green peppers is going to blow your taste buds away. It is sort of a Russian Roulette of chiles.
Spanish Spicy Olives (Aceitunas Alinadas)
1 pound Spanish green olives, unpitted1/2 to 3/4 cup small pickled pearl onions1/2 cup diced bottled roasted red Spanish peppers (mild)1/4 to 1/2 cup chopped pickled green peppers (Spanish pickled green guindillas or Italian pepperoncini)1 tablespoon pickled capers1 tablespoon Spanish olive oil1/2 teaspoon hot Spanish paprika (smoked or unsmoked)1/4 teaspoon ground cumin
First, under warm running water, rinse the olives, pearl onions, pickled green peppers, and pickled peppers to reduce their saltiness. Drain them thoroughly.
Combine all the ingredients in a medium-size bowl. Cover and refrigerate for at least 24 hours, to let the flavors meld. Serve at room temperature, as a tapa to accompany dry Spanish sherry, white or red Spanish wine, or Spanish beer.
Yield: About 2-1/2 cupsHeat scale: Mild to medium
Chocolate-Chorizo Tostadas (Tostadas de Nutella y Chorizo)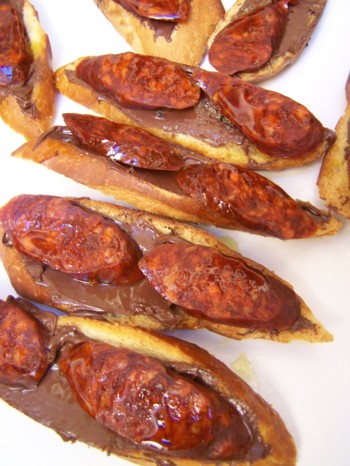 This surprising appetizer was created by Jason Dady, chef at The Lodge Restaurant of Castle Hills in San Antonio, Texas and Bin 555 Restaurant and Wine Bar in Dallas and San Antonio. Dady combined New World flavors of chiles, chocolate and vanilla with Spanish olive oil and traditional Spanish chorizo pork sausages (flavored with Spanish paprika) to make an appetizer that appeals to the child in every adult. The combination of chocolate and chiles is reminiscent of traditional Mexican mole poblano.
Country-style French bread, cut crosswise into 1/2-inch thick slicesSpanish extra-virgin olive oilNutella chocolate-hazelnut spreadVanilla-bean-flavored sea salt (see NOTE), or unflavored sea saltSpanish hard chorizo sausage (not Mexican soft chorizo sausage), cut crosswise into 1/8-inch-thick slices
Toast the bread slices on both sides and let them cool. Lightly brush one side of each bread slice with olive oil, then spread a thin layer of Nutella on top (like spreading mayonnaise on sandwich bread). Sprinkle a small amount (a pinch or two) of sea salt evenly over the Nutella, then place two or three slices of Spanish chorizo in a single layer on top. Serve at room temperature, as an appetizer or snack, accompanied by a robust Spanish red wine from the Rioja region.
NOTE: Make vanilla-scented sea salt by finely crushing a vanilla bean and combining it with sea salt (preferably fleur de sel) in a tightly covered glass container. Let the mixture stand for several days, at room temperature, for the flavors to meld.
Yield: VariableHeat scale: Mild
Andalusian Baked Eggs, Flamenco-Style (Huevos a la Flamenca)
This recipe comes from Sevilla, a city famous for its flamenco music--and the dish is as colorful (and saucy) as a female flamenco dancer. In Spain, it's traditionally cooked and served in little individual earthenware casseroles. The garnishes on top of the eggs can be varied to use up any bits and pieces of leftover meats and vegetables in your kitchen.
6 tablespoons Spanish olive oil (plus oil for the casseroles) 1 large onion, finely chopped3 large garlic cloves, minced1 1/2 cups diced cooked ham (divided use)1 tablespoon mild/sweet Spanish paprika (smoked or unsmoked)6 large tomatoes (fresh or canned), peeled, seeded, and chopped3/4 cup chicken stockSaltFreshly ground black pepper12 eggs12 cooked green asparagus stalks2 whole canned Spanish pimientos, cut lengthwise into 12 strips6 cooked artichoke hearts, cut into halves or quarters12 slices hard Spanish chorizo sausage (not soft Mexican chorizo)3/4 cup cooked green peas
Preheat the oven to 450 degrees F. Lightly oil the insides of six 1-1/2-cup individual shallow earthenware casseroles or ovenproof ramekins.
Heat the olive oil in a large skillet, and saute the onion, garlic, and half the diced ham until the onion is soft. Sprinkle in the paprika and cook, stirring constantly for 30 seconds. Immediately stir in the tomatoes and chicken stock. Cook uncovered over medium heat, stirring occasionally, for 15 to 20 minutes, or until the liquid is reduced and the sauce is thick. Taste and add salt and pepper as needed.
Divide the sauce among the 6 casseroles, spreading it in an even layer. Carefully break 2 eggs over the sauce in each casserole. Arrange the asparagus, pimiento strips, artichoke hearts, chorizo slices, green peas, and remaining half of the diced ham decoratively around and over the raw eggs in each casserole. Sprinkle lightly with salt and pepper.
Bake the casseroles in the preheated oven for about 8 to 10 minutes, until the egg whites have set but the yolks are still runny. Serve immediately, as a first course or as the main dish of a light meal, accompanied by a crisp green salad dressed with Spanish olive oil and coarse salt.
Yield: 6 servingsHeat scale: MildSpanish Garlic Soup (Sopa de Ajo)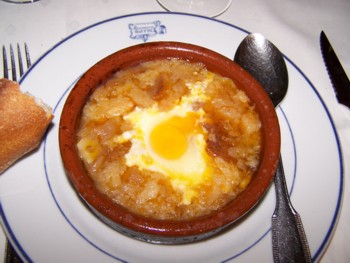 This peasant soup is popular throughout Spain where it's known by many names, including simple sopa de ajo (garlic soup), sopa castellana (Castillian soup), and sopa de ajo leonesa (garlic soup from Leon). Sometimes the egg is stirred into the soup, like Chinese egg-drop soup, instead of baked on top--or even omitted entirely. The use of ham is also optional, but personally I think it adds another deeply Spanish layer of flavor.
1/2 cup Spanish olive oil (divided use)4 thick slices day-old French bread6 to 8 large cloves of garlic, finely chopped or thinly sliced1/2 cup diced Spanish jamon serrano (dry-cured raw ham)1 tablespoon mild/sweet Spanish paprika (smoked or unsmoked), mixed with 1/4 teaspoon ground cayenne pepper (or 1 tablespoon Spanish hot paprika)6 cups chicken stock or water1/2 teaspoon salt4 eggs
Preheat the oven to 450 degrees F. Heat 1/4 cup of the olive oil in a large skillet over medium heat, and fry the bread slices in it, cooking them on both sides. Put 1 slice of fried bread into each of 4 ovenproof soup bowls. (In Spain, this soup is often served in straight-sided earthenware bowls, glazed only on the inside.)
Heat the remaining 1/4 cup of olive oil in a large heavy saucepan over medium heat. Add the garlic and cook, stirring constantly, for 2 to 3 minutes, until the garlic is soft but not browned. Add the diced ham and sauté for 2 to 3 minutes longer.
Remove the pan from the heat and stir in the paprika. Mix well. Place the pan over low heat and cook, stirring constantly, for 1 minute. Do not let the paprika burn! Immediately add the chicken stock (or water) and salt. Bring to a boil over medium heat, then reduce the heat and simmer, uncovered, stirring occasionally, for 10 minutes. Taste and add more salt if desired.
Place the soup bowls on a baking sheet. Pour the hot soup over the bread in each bowl. Break 1 egg onto a saucer, and slide the raw egg carefully onto the top of the soup in 1 bowl. Repeat for each of the remaining bowls. Put the baking sheet with the soup bowls into the hot oven for 3 to 4 minutes, or until the eggs have baked and set. (Usually this dish is baked only until the whites have set and the yolk is hot, but still a bit runny.) Serve hot.
Yield: 4 servingsHeat scale: Medium to hot, depending on type of paprika usedCatalan Fish Stew (Zarzuela/Sarsuela)
Zarzuela (sarsuela in the Catalan language) is a musical term for a type of Spanish operetta--a colorful, witty mixture of song, dance, and theater. The same term is also used for this colorful, flavorful Catalan dish that combines several types of seafood with sweet red peppers and almonds.
1/8 teaspoon finely crumbled saffron threads1 tablespoon Spanish sherry1/2 cup Spanish olive oil2 large onions, coarsely chopped4 to 5 large garlic cloves, minced2 tablespoons finely chopped Spanish jamon serrano (dry-cured raw ham)1 tablespoon mild/sweet Spanish paprika (unsmoked)1 tablespoon hot Spanish paprika (unsmoked)1/2 cup blanched almonds ground in a nut grinder or blender6 medium tomatoes (fresh or canned), coarsely chopped2 red bell peppers, seeded, deveined, and cut lengthwise into 1/4-inch-wide strips1 bay leaf, finely crumbled1/2 cup dry white wineJuice of 1 lemon1-1/2 pounds fish filets (sole, turbot, perch or red snapper), cut into 2-inch chunks1 pound whole shrimp, in the shell, washed and drained
Garnish:
3 tablespoons chopped fresh parsley6 lemon wedges
Mix the crumbled saffron threads with the sherry in a small bowl, and set aside for them to steep while you assemble the rest of the dish.
Heat the olive oil over medium heat in a large (4-quart) heavy-bottomed stovetop casserole. When the oil is hot, sauté the chopped onions until they begin to soften. Add the garlic and ham and sauté them with the onions until the onions are very soft. Sprinkle the paprika over this mixture, stir well, and cook over very low heat, stirring constantly for 2 minutes. Add the ground almonds and cook, stirring constantly, for 1 minute. Stir in the tomatoes, red bell peppers, bay leaf, and saffron with the sherry it steeped in. Increase the heat to medium and let the mixture cook uncovered for 5 minutes.
Stir in the white wine and lemon juice. Add the pieces of fish. Bring the mixture to a boil, reduce the heat to low, and simmer uncovered for 10 minutes. Add the unpeeled shrimp, stir gently to combine with the other ingredients, and simmer for another 3 to 4 minutes (maximum--otherwise the shrimp will be tough). Serve immediately, in shallow soup bowls, garnished with chopped fresh parsley and lemon wedges. Or serve on plates with plain boiled rice and a green salad on the side. Dry white Catalan wine goes especially well with this dish.
Yield: 6 large servingsHeat scale: Mild to mediumIf you have never tried tapas do give these small plates a try-very tasty and perfect with a glass of Spanish wine.http://www.fiery-foods.com/dave2/spain3.asp more info

Spanish Cuisine