How To Use Spanish Rice

21 Oct 2010
A Mexican meal or feast is never complete without a dish of Spanish rice which is eaten well with all Mexican dishes. Using Spanish rice can sometimes be dicey if you are not aware of the complete process. Learn how to use Spanish rice and master the art of cooking Mexican food.  The art of using Spanish rice starts with browning Spanish rice by using onions and garlic. This rice has a nutty and toasty aroma that comes by browning only.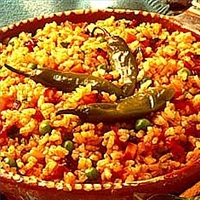 Ingredients required
2 cups full white rice
Olive Oil
1-2 finely chopped onions
1 clove Minced Garlic

1 cup Diced tomatoes, fresh or cooked
3 cups full chicken stock
Salt to taste
Procedure
You would need a skillet to stir fry rice in olive oil. Continuous stirring is required to achieve a brown color.
Add chopped onion and minced garlic to the rice and stir fry until the onions become soft. It would take less than 5 minutes for the onions to get cooked with rice.
Heat chicken stock in a saucepan and add diced tomatoes and salt. Let it simmer for sometime before adding the rice mixture into the broth.
Wait until the complete mixture simmers and cover the saucepan with a lid. Cook further in medium heat.
It would take about 15 minutes to cook your Spanish rice but this actually depends on the type of Spanish rice that is used.
Check your Spanish rice after 15 minutes of cooking, but make sure you check it quickly and put the lid back.
Cook for some more time if required.
The secret to cooking Spanish rice is not to open the lid; along with the steam the aroma will also be lost.
Turn off the fire once done.
Leave your cooked Spanish rice for about 5 min before serving.
Once you are a master at using Spanish rice, you can experiment your Spanish rice with spices like cumin, jalapeno peppers, bell or cayenne pepper. You will get a different flavor out of your Spanish rice every time you use a different spice. And soon you would be a pro at using Spanish rice!! 
Picture Courtesy: ehow.com
How To Use Spanish Rice