How To Plan A Traditional French Easter Food
18 Oct 2010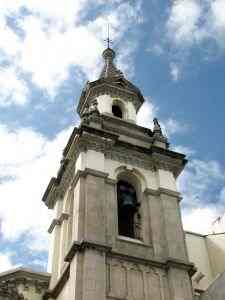 France is a nation dominated by the Christian population especially Roman Catholics, so you can easily imagine the importance of Easter or Pâque in lives of French.  Let us see how to plan  traditional French Easter food. The French begin their Easter celebrations several weeks before the actual day.  All shops windows and public places around France are decorated with the black and white chocolate chickens, rabbits, bells, and fish.
 We all know that French are very serious about their food and food habits. This seriousness can be judged from the food served on the Easter day. The traditional French Easter foods symbolize the freshness of spring and divineness of Easter. The traditional French Easter Foods incorporate the essence of all the events associated with Easter right from resurrection, to rebirth and other symbols of life.
If you are planning to host a typical French Easter feast, then here is the list of few of the must have food items on your feast menu:
Dyed Easter Eggs: Dyed Easter Eggs announce the beginning of celebration time. Adults and kids equally enjoy the indulgence with dyed eggs.   Since many centuries eggs are considered to be the symbols of fertility, life and new birth. Pagans symbolized eggs with rebirth of earth, and from them early Christians borrowed it as a symbol of resurrection of Jesus. It is believed that the tradition of dyed Easter eggs began in medieval times, when King Edward I handed over 450 dyed eggs to his family and friends.  Today the old tradition of using dyed eggs is replaced by chocolate eggs or plastic eggs filled with confectionary like jelly beans. It is supposed that this egg is hidden by Easter Bunny on Easter eve, so that kids can find it next morning and begin their spring and Easter celebrations.
Cloche Volant (Chocolate Flying Bells): Chocolate bells are integral part of French Easter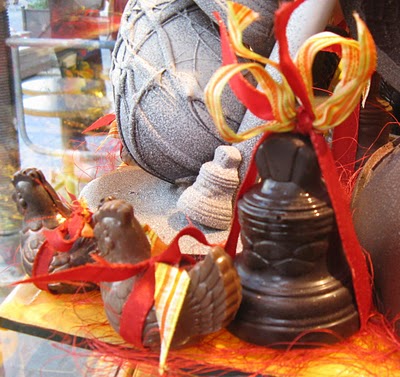 tradition. These chocolate bells are served on Easter day.  As per the French Catholic traditions the church bells don't ring from Good Friday to Sunday. They believe that church bells miraculously fly to Vatican, carrying all miseries and grief of French, who are mourning the crucifixation of Jesus Christ. The chocolate flying bells are served along Easter eggs symbolizing the return of church bells.
Poisson d'Avril:  "Poisson d'Avril" or chocolate fish is very unique to French Easter. Possion d Avril appears in French homes from April 1st. And this fish is especially a hit amongst kids, who stick paper fish on backs of people, and run away yelling "Poisson d' Avril" which means April Fish.  The origin of this tradition can be traced back to several centuries, when people started playing fish tricks on each other. The innocent people were fooled and sent to market to buy fresh water fish, which was not available during that season.  Kids enjoy relishing Poisson d Avril, and Cloche Volant on the Easter morning.
Lamb Preparation: An Easter in France is incomplete without a Lamb dish. People enjoy their gigot d'agneau (leg of lamb) preparation on Easter day or if the weather permits they skewer the lamb les brochettes d'agneau (skewered lamb) and enjoy their first barbeque of the year. French also enjoy Navarin (traditional lamb stew) on Christmas day. Navarin is different from other stews: you don't need to cook meat for long time, and you can add all available spring vegetables while preparing this soup.
For French a meal is incomplete without a wine accompaniment, so Easter won't be an exception to this tradition. Lighter red wines will go well with most lamb preparations.
Image courtesy: easy-french-food.com; 4.bp.blogspot.com
How To Plan A Traditional French Easter Food