How To Choose Drinks For A Stag Party

13 Oct 2010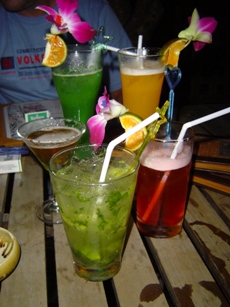 Can you think about a bachelor's party without  drinks? How to choose drinks for a stag party so that you have a mixed blend of beer, cocktails, mixed drinks, just a few shots and some legendary wine. This isn't as easy as it might appear to be because it is tough to choose alcohol which shall suit everyone's purpose. So, here are a few drinks which will help your stag party to be a great success.
Planning for drinks– You need to plan your party well and keep a list of all your guests with their age and if you know about their preferences. This shall help you to determine the kinds of drinks which you can include in such a party. Consider facts like if your party is full of cocktail drinkers? Will your guests prefer old time beer?
Groom's favorite drink– The groom needs to enjoy the party, so ensure that you have stocked his favorite beverage.
Signature drinks– You can include a signature drink in a stag party too – though these are quite common in a bridal shower and a wedding. You can be a little creative and name the drink which can be fun and enjoyable at the same time.
Mixed drinks– Try and include one mixed cocktail which shall be your innovation and specialization for the evening. You can infuse drinks and make a special stag party drink which will be specially served in the party.
Tips on how to serve drinks:
Stock all the drinks in your bar shelf or bar cabinet which is visible for all.
Keep ample wine glasses and other glasses nearby so that your guests are able to find them whenever they need.
Stock enough of drinks in your refrigerator so that they are available chilled. Keep a watch on the drinks you have placed on the shelf – as soon as they exhaust, you need to replace them.
Appetizers and snacks– Any stag party will be incomplete until you serve some good
537663-how-to-choose-appetizers-for-stag-party-drinks-menu.jpg400400appetizers and snacks.
Cocktail kebabs– These are made from cooked shrimps, garlic, cloves, onions, lemon juices and green olives.
Crispy wontons– These taste wonderful when had with drinks. The taste of ground beef with fresh ginger roots and chestnuts is loved by all.
Bacon draped dates– Slices of bacon are wonderfully wrapped and cooked with dates in a baking dish. The bacon becomes very tasty and is served with a spicy dip sauce.
Tangy cheese balls– You will love the taste of tangy cheese balls which are made from cheddar cheese, tasty dill pickle juice and some great Italian style salad dresses. These balls are rolls in chopped pecans and are then chilled. You can serve them with your favorite crackers. 
Image credits - cocktailmixingmaster.com, cookinglight.com 
How To Choose Drinks For A Stag Party