Healthy Valentine's Menu
Avocado with Prawns in Seafood Sauce

    An all-time favourite starter - now with the fat content reduced.
  Ingredients
2 medium avocado pear, halved and pitted
2 teaspoon lemon juice
1 portion lettuce, shredded, to garnish
8 portion tomato(s), cherry
120 g very low-fat plain yogurt, (6 tbsp)
2 tablespoon tomato puree
1 teaspoon capers, rinsed and finely chopped (optional)
300 g peeled prawns, cooked, (thawed if frozen)
1/8 teaspoon paprika, or freshly ground black pepper
Instructions
Sprinkle the cut surface of the avocados with a few drops of lemon juice. Stand each half on a separate serving dish or plate and garnish with shredded lettuce and cherry tomatoes.
To make the dressing, mix together the yogurt, tomato puree and capers, if using. Pat the prawns dry with some kitchen paper, then stir them gently into the dressing.
Pile the prawns and dressing into the avocado halves. Sprinkle with a little paprika or black pepper, then serve at once.
Notes
Remember that avocado will blacken if left for too long, so serve as soon as possible.
Italian-Style Stuffed Chicken Breasts with Roasted Pine Nuts  
    This dish is perfect for fuss-free entertaining. Easy to prepare and serve, healthy - and very, very tasty!

Ingredients

600 g chicken breast, uncooked, skinless, boneless, (4 x 150g fillets)
150 g low-fat soft cheese
2 teaspoon dried mixed herbs
2 quantity spinach, watercress and rocket salad, finely chopped (2 generous handfuls )
2 medium Pepper, red, deseeded and cut into chunks
2 medium Pepper, yellow, deseeded and cut into chunks
2 medium onion(s), red, sliced into wedges
3 medium courgette, thickly sliced
5 spray low-fat cooking spray
12 portion cherry tomatoes
40 g pine nut kernels
1 pinch salt, and freshly ground black pepper

Instructions

Preheat the oven to Gas Mark 6/200°C/400°F/fan oven 180°C.
Lay the chicken breasts, well spaced apart, on a work surface covered with a piece of cling film. Cover them with another piece of cling film, then use a meat mallet or rolling pin to beat them out, gently but firmly, until flattened. They need to be quite thin.
Mix together the low fat soft cheese, dried herbs and spinach mixture. Spread evenly over the chicken breasts, season with black pepper, then roll them up to enclose the filling. Use cocktail sticks to secure them. Wrap each chicken breast in a separate piece of foil.
Put the peppers, onions and courgettes into a large roasting pan and spray with low fat cooking spray. Arrange the chicken parcels on top.
Roast, uncovered, for 30 minutes. Remove the chicken parcels and let them rest for 5 minutes.
Add the cherry tomatoes to the vegetables and sprinkle the pine nuts over the top. Roast for a further 5 minutes. Unwrap the chicken breasts, slice them, then serve with the vegetables.

Notes

The chicken can be served cold – perfect sliced for a special sandwich filling with extra salad.
 
Irish Coffee

  
 Print     
 Email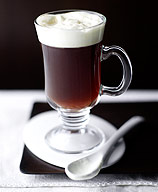 For a special occasion, what could be better than finishing off your meal with a wonderful Irish coffee? Have it instead of dessert!
Ingredients
2 tablespoon whipping cream, fresh
1 teaspoon white sugar, (or use ½ tsp Light Cane Sugar)
1 tablespoon whisky, Irish
2 tablespoon coffee, make up to 200ml using boiing water. Use filtered or instant, according to preference
Instructions
First of all, whip the cream until it has thickened slightly.
Warm an Irish whiskey glass by adding a few drops of just-boiled water, swirling it around the glass, then pouring it away.
Put the sugar and whiskey in the glass, then stand a metal teaspoon in it. This will prevent the glass from breaking when you add the hot coffee, as it will absorb the heat. Pour in the hot coffee and stir until the sugar has dissolved.
With the bowl of the teaspoon positioned on the surface of the coffee (not the back of the spoon) pour in the cream. If it is poured into the bowl of the spoon, it will flow neatly over the surface of the coffee. Serve at once.
Chef Tips
The sugar helps the cream to float - sweetener does not work so well.
Menu by Weight Watcher's UK
Healthy Valentine's Menu