Food Ideas For An Old Time Country Picnic

7 Oct 2010
I wanted to organize a country picnic for my grandparents which would remind them of their olden
537408-fried-chicken-pieces-are-an-integral-part-of-country-picnics.times. Thus, I was looking for food ideas for an old time country picnic so that I could set the ambience and have the right kind of menu. I came across several food recipe ideas for old time country picnic – these recipes have something which help to evoke happy memories of the past. Moreover, these ideas help to recreate the scenario of those times.
   
Fried chicken: It is true that fried chicken is equally popular even now, but this is a long time favorite in country picnics. These chicken pieces were just fabulous as a golden pile of some excellently cooked and battered chicken drumsticks and wings. These were prepared from scratch and from all homemade ingredients. In fact the preparation would begin the night before and would be perfectly ready to be eaten the next day.
Fresh lemonade: This was a staple beverage of summertime country picnics. It was easily available in the roadside stands and was available in several restaurants too. If you are organizing an old time country picnic, you can have different mixes of the lemonade which was popular even at that time. You can include spices and herbs which help to add a refreshing taste to these drinks.
Baked beans –  Any country picnic is unimaginable without a heap of baked beans – so do not miss out this sweet and very savory side dish from your menu. This is ideally had with a variety of cold sandwiches and chicken or hamburgers. If loads of brown sugar and plenty of bacon are added, it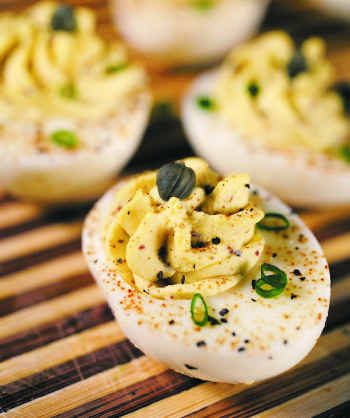 helps to add a southern flavor to the dish.
French toasts – This is the most loved breakfast of any summertime country picnic. If you are organizing a picnic now, be sure to include the traditional toasts made from spiced bread, onions, eggs and also cinnamon. These can be served with a bowl of yogurt or some fresh juice as a part of the traditional breakfast menu.
Deviled eggs – These paprika sprinkled delicacies will make your picnic complete. There are several subtle variations of this recipe which makes it popular among young and old alike.  If you wish you can include just one variety of topping, or else, you can include as many variations you wish. It will make the dish more versatile among the food lovers.
Hand cracked ice cream – This is the classic menu of a summertime picnic…though now, you can have this ice cream in many different flavors. Earlier, it was mainly the vanilla flavored ice-cream which was loved by food lovers and was hugely popular. This is a homemade delicious treat which is made with the help of a hand crank machine and is normally a group effort. This is served after meals as a dessert.
Image credits: 4.bp.blogspot.com
dallasnews.com
Food Ideas For An Old Time Country Picnic