Top 10 Most Expensive Desserts
6 Oct 2010
It's great to have a small and sweet serving of dessert after a hearty meal; how much would it cost anyways - $10 or maybe $40, in case you are in a mood to splurge…but would the dessert taste equally good if you had to shell out a million dollars for it! Yes a MILLION DOLLARS or even more...here I bring to you the top 10 most expensive desserts in the world – try them if you can and do let me know how they taste, for I sure would never be able to afford eating any of them! 
1. Grand Opulence - $1000: The Sundae served by the New York City's Serendipity 3 is truly a grand opulence of sorts. A former Guinness world record holder for being the most expensive Sundae, the Grand Opluence is made of 5 scoops of rich Tahitian vanilla ice cream suffused with pure Madagascar vanilla beans. The sundae is then drizzeled with Amedei Porceleana – the most expensive cocoa, and covered with chunks of rarest of rare Chuao chocolate from Venezuela. The delectable delight is then bathed with an assortment of exotic candied fruits from Paris, gold dragnets, truffles, Marzipan Cherries, and adorned with a 23K edible gold leaf. Well that's not all, this fancy dessert comes with a spoonful of Grande Passion caviar and a gilded sugar flower. This opulent dessert is served in a Baccarat Harcourt crystal goblet (which you will get to take away as a souvenir) and a 18K gold spoon.
2. Knipschildt Chocolatier by Chocopologie - $2600: This not merely a box of chocolate, but a box of lavishly delicate designer chocolates, handcrafted by none other than master chocolatier Fritz Knipschildt. Biting into these chocolates is supposed to be a true adventure for your tastebuds. Chocopologie, the designer chocolate store in Connecticut, custom makes these chocolates. The Knipschildt chocolates are only available on a pre-order basis for $2,600 or £1,300 per pound! 
3. Fortress Stilt Fisherman Indulgence - $14,500: This elegantly styled dessert, which debuted in the year 2007, gives a new meaning to pricey delicacy. Offered by The Fortess restaurant in Sri Lanka, Fortress Stilt Fisherman Indulgence was supposed to be the most expensive desserts offered around the world until other more expensive dessert were invented, of course. What's so special about this dish…well, it is made up of combination of a gold leaf Italian kasata, flavored with Irish cream, and served with mango&pomegranate compote and a bubbly-base of sabayon enlighten. However, this is not all, what turns this dessert into one of its kind expensive indulgence is the 80 carat aquamarine stone nestled on the handmade chocolate stilt – the guests can take the precious gem home as a fond keepsake.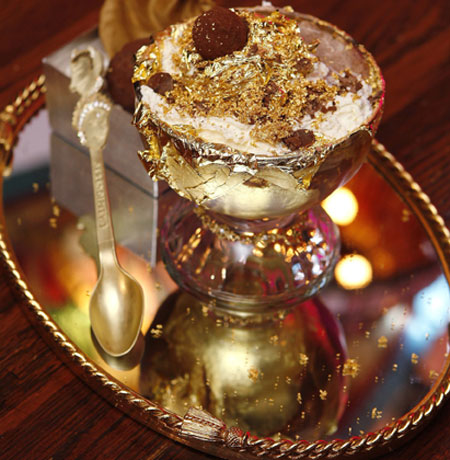 4. Frrrozen Haute Chocolate - $25,000: One more exclusive sweet ending offered by the famous Serendipity 3 of New York City, Frrrozen Haute Chocolate holds the Guinness World record for being the most expensive dessert. This lavish sundae is a blend of 28 different best cocoas gathered from around the world and infused with 5gms of edible 23 karat gold and served in a goblet lined with edible gold. The delicacy is then topped with whipped cream, more gold, and a side of La Madeline au Truffle from Knipschildt Chocolatier – one of the most expensive chocolate stores around the world. It even comes with exclusive take-aways -  an 18K gold bracelet with a carat of diamonds that rests at the base of the goblet and a golden spoon set with white and chocolate-colored diamonds! 
5. 3 Twins' Ice cream from Kilimanjaro - $60,000: True, Frrrozen Haute Chocolate is listed in the Guinness World records, but there surely exists an ice cream that's way more expensive. The famous organic ice cream maker 3 Twins from Napa, CA offers the most extravagant dessert that you might want to indulge in for $60,000 only. Now, if you are wondering about the gems and jewels offered along with this ice cream then, I am sorry to say that there is none. However, what the $60,000 gives you is an ice cream sundae churned by the founder of 3 twins ice cream himself, using the glacial ice of Kilimanjaro – the tallest summit in Africa. Well, that's not all, the ice cream comes with a first class ticket to Tanzania, a guided tour to the peak of Kilimanjaro, organic T-shirt as a souvenir, and unlimited portions of ice creams made from the Kilimanjaro's glacial ice shavings!
6. Platinum cake - $1, 30,000: This is surely the most expensive cake that you might ever get to cut or bite into. The Platinum cake was created in the year 2007 by Noabi Ikara, the famous Japanese pastry chef, in collaboration with other local jewelers. Chef Noabi dedicated this magnanimous cake to leading Japanese actress Rinko Kikuchi and the entire womanhood in general. The Platinum cake is a white multi-tiered cake festooned with various platinum jewelries including necklaces, pins, brooches, and edible platinum powder & foil. The cake, however, is not for sale and at present used as a promotional product to enhance the platinum jewelry market in Japan.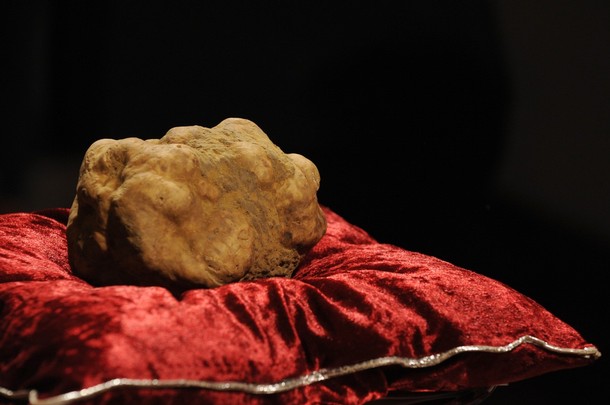 7. White truffle - $3, 30,000: Truffles, the highly coveted fungal fruits are one of the most expensive and rare foods around the world. The best truffles are supposed to come from the Piedmont region in northern Italy, with the white truffles being the most refined and sought after ones. The white truffles easily sell for anything between $3000 to $5000. However, the entire world was shocked for a moment when Stanley Ho, the owner of Macau casino, bought the largest single white truffle, weight 1.5kgs, for a whopping $3, 30,000! 
8. Strawberries Arnaud - $14, 00,000:    The Arnaud's in the French Quart of New Orleans, offers the most lavishly made strawberries around the world. These fantastic strawberries are richly flavored and marinated in the finest port wine, covered with the best mint cream, and a very special and unique topping - a 4.7 karat diamond ring, which once belonged to English financier Sir Ernest Cassel. Apart from the diamond studded strawberries, you also get to savor the finest port, poured from a $25,000 Charles X crystal cave set. 
9. Diamond Fruitcake - $16,50,000: One more wacky jewel encrusted dessert – the diamond fruit cake comes with exactly 223 diamonds used creatively to decorate the cake. The fruit cake can be eaten, however, you need to laboriously remove all the diamonds before attempting to bite into this pricey delight. Created in the year 2005, this magnanimous cake is one more offering from Japan.  
10. Valentine Diamond chocolate - $50,00,000: Well, with its latest offering, Japan surely qualifies to be the land of most expensive desserts. Valentine Diamond chocolate, one more crazy creation by a Japanese chef, is a seductive chocolate, molded in the shape of the African continent and studded with 2000 sparkling diamonds. Sold at $50,00,000, gifting your loved one with this Valentine Chocolate will surely cost you more than a fortune.
Well, this is the latest list of most expensive dessert found around the world as of now. However, looking at the way new creations and inventions are shaping up… it won't take long for this list to get outdated. So, keep following this space for more expensive desserts that may get invented or created.
Image credits: chocolatepath.com, womansday.com, pimmshop.com, newluxuryitems.com, kdv-market.ru, a0.att.hudong.com, media.bonnint.net, elitechoice.org
Top 10 Most Expensive Desserts