Menu Suggestions For Your Cocktail Party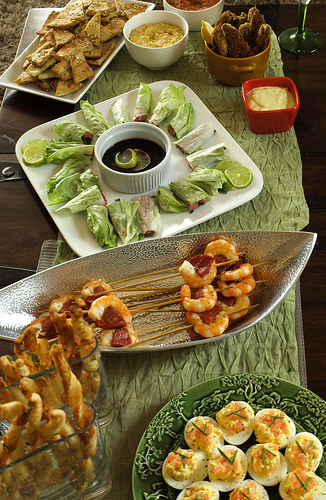 I love hosting cocktail parties as not only is it easy to host but it is also simple to plan and prepare for. The most attractive part of the cocktail party is the menu and mind you I never had a problem getting my hands on some exciting menu suggestion for a cocktail party. If you are planning on hosting a cocktail party then these menu menu suggestions will definitely help you.

 

 

 
 

Cocktail Menu Planning Suggestions

 

Variety is the all important rule for cocktail parties. As your guests won't have a lot of the same appetizer, it is important that you have different kinds of appetizers. By variety, I mean the kind of ingredients you use, the flavors and even the way it is presented.  You can use anything from vegetables to seafood, red and white meat or any other exotic ingredient you can get your hands on. You can serve hot appetizers like fritters or cold appetizers like cold salads. You can serve baked appetizers, steamed appetizers, fried appetizers, grilled appetizers or chilled appetizers. Just ensure that you are presenting a menu that has a balanced amount of all types of appetizers when it comes to ingredients or method of preparation.

 

When worrying about quantities just keep in mind that you have to cater for 6 servings per person, per hour. To be safe make sure that you have extra food too.

 

Take care with your presentation. Be creative with your garnishes as well as colors of the food being served. Try and use unique plates and pay attention to the plating!

 

You can host a cocktail party with a theme like a Halloween Cocktail party or a French Cocktail party. Make sure that you stick to theme based drinks and appetizers!  Check out these Halloween appetizers and Halloween Cocktails.

 

Though sweet appetizers are usually not served for cocktails you can serve them towards the end of the party. This gives them a chance to wash down their palate and a subtle hint that the cocktail party is winding up.

 

Drinks that you can serve at your cocktail should be picked depending on your budget and the kind of crowd you are entertaining. Mocktails, margaritas and Bloody Mary's are just not the thing to serve for a cocktail party that has more men than women. Bartenders can help you with the drinks to serve. It is also important that you serve appetizers that go with the drinks you have chooses to serve at your cocktail party.
 

Menu Suggestions

 
Shrimp Appetizer is a yummy shrimp salad that can be prepared in a few minutes. You can serve them cold or hot. I usually prefer them as a cold salad.

 

The Chicken liver appetizers bring together a mouthwatering combination of chicken livers and artichokes.

 

If you like artichokes and do not want chicken, then the Orleanian artichoke appetizer is your best option.

 

The peppy cocktail nuts are simply brilliant. Cashews, almonds and nuts roasted in a yummy sauce is sure to pep up your party.

 

You can also make pastry appetizers like tarts or crusts topped with cheese and onion or cheese and olive pastry. The best thing about pastry appetizers is that you can experiment with your topping or fillings which can be sweet or savory.

 
Appetizer crepes are another creative cocktail appetizer which can have savory or sweet fillings. Fillings like caviar and sour cream or chicken with mayonnaise are perfect choices!

 

All kinds of wines are good choices. If you pick wine then you have to provide the right kind of appetizers like cheeses, cold cuts and canapés. Whip up some cocktails with the help of a bartender or with these cocktail recipes. You can choose alcohol like as absinthe (Sazerac and Earthquake), brandy (Brandy Manhattan, Dirty Mother and Orgasm), gin (Alexander, My Fair Lady), rum (Bacardi, Tom and Jerry and Zombie), tequila (Margarita,   Matador and Paralyzer) or vodka (Bloody Mary, Sex on the Beach and Gimlet) as the base for your cocktails.

 

Here are a few other appetizers and drinks that you can add to your menu at your cocktail party.

 

 

Image Credit
http://www.flickr.com/photos/27878973@N05/ 
Menu Suggestions For Your Cocktail Party