Top 10 Vegetable Side-Dishes
30 Sep 2010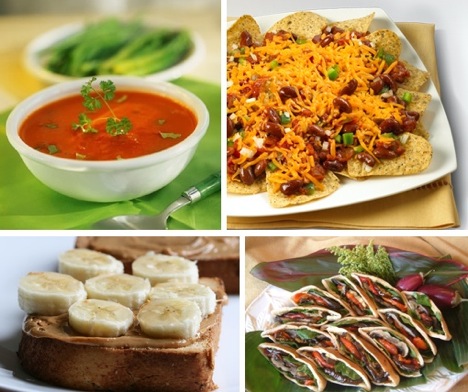 If you are tired of the same old vegetarian dishes, then browse through this list of top 10 vegetable side-dishes. Reap the real pleasures of the seasonal veggies cooking a delicacy from the top 10 vegetable side-dishes. This collection of top 10 vegetable side-dishes doesn't include one of those vegetarian preparations that easily disappear behind the main meals. Healthy, fresh and delicious - this collection has some of the best discovered vegetarian side-dish recipe ideas. Read on to know…
Top 10 Vegetable Side Dishes
1. Spanish Inspired Green Bean Side Dish
A perfect side dish to take to any Thanksgiving dinner, this casserole packs in the goodness of green beans, a little rice, tomatoes, onions and the best of spice mix. The spice secret of this amazing vegetarian casserole recipe reveals itself in the form of Tabasco, pepper and cumin. This dish can also be enhanced with green peppers and jalapenos.
2. Snap Bean–Corn Salad with Yellow Tomato Vinaigrette
When you think of a vegetarian side dish, think about this colorful salad. Ideal for a warm weather, this salad is prepared with the brightest of yellow tomatoes, corns and summer beans. To make this salad, just puree the tomato and blend the puree with vinegar, salt, pepper and some oil. Then, stir fry shallots and chile (if you don't mind the salad hot!). After that, cook the corn, yellow beans and green beans in salted water till crisp and tender.  Next, blanch them and dry them up. Finally, toss up all these ingredients and dress the salad with dill and vinaigrette.
3. Sweet Potato and Pear Gratin
Sweet potatoes and pears – incredible combination, isn't it? This "made in heaven" pair can result in a delicious dish, when you know how to cook them. Simply, marry off the pair with a zippy mixture of butter spiced up with grated ginger and lemon, and you will end up with an amazingly delicious dish! This 20 minute dish is simple to make. All it uses is some boiled potato slices and pear slices brushed with butter mixture and baked till golden brown. 
4. Potato-Rosemary Galette
With this dish, the popular household vegetable 'potato' gets a glamorous makeover. In this recipe, the potatoes are shredded into tiny bits and tossed in the oil with salt, pepper and rosemary until golden and crispy.
5. Sweet 'n' Spicy Sweet Potatoes
Fries get a whole new meaning with this tangy sweet potato side dish. These roasted sweet potato wedges glazed with orange juice, cayenne pepper, cinnamon, butter and sugar are tempting enough to make you forget even about the chicken fries!
6. Scalloped Potatoes with Crumb Topping
This is a delicious vegetable side dish that comes with the right kick of health! This wonderful veggie side dish is basically a classic delicacy of scalloped potato slices baked in creamy cheddar cheese (sharp) and non-fat milk. The best part of this dish is its crunchy topping, which is achieved by the bread crumbs.
7. Smoked Corn on the Cob
This side dish is yet another special recipe in this selection of top 10 vegetable side dishes. A simple dish, the smoked corn on the cob is prepared by grilling the corn with green onions and olive oil.
8. Grilled Garlic Mushrooms
A perfect portabello mushroom dish to liven up any dinner table! This versatile dish can also be served as the main dish or appetizer and not just as a side dish.
9. Deep Fried Sweet Potato Fries
Tasty to eat and easy to make, the long steak sweet potatoes are a perfect side dish for any meal!
10. Vegetable Kebabs
The vegetable kebab side dishes are not only beautiful to look at with their colorful skewered veggies, but are also delicious and filling.
Picture Source: webecoist.com 
Top 10 Vegetable Side-Dishes