Haunting Halloween Cocktails

30 Sep 2010
Sure, Halloween may be the time for kids to get dressed up and go trick-or-treating, but that doesn't mean adults can't have fun too! It's time to drink and celebrate! Here is a list of the top 10 haunting Halloween cocktails. If you haven't tried out these popular Halloween cocktail recipes till now, you're in for a real treat!
1. Bayou slime – This cocktail has the same mystery associated with the swamps of bayou. You will wonder what lies below the top layer of this creamy mojito consisting of: 2 parts dark rum, 6-8 fresh mint leaves, 1/2 part spiced cordial syrup, and 1 egg white.
1) Muddle the mint leaves and syrup together, making sure to really crush the mint leaves.
2) Place all the ingredients into a shaker, shake until cold and frothy and then drain into a martini glass and garnish with mint lead.
2. Black cat – This is a haunting yet very tasty cocktail consisting of: 1 shot blue curacao, 1 shot of vodka, 3 shots of lemon lime soda, 1 shot of cranberry juice, and 1/2 shot fresh squeezed lime juice.
1) Shake together the curacao, vodka and lime juice, then add the soda.
2) Pour cranberry juice into the bottom of a tall glass and then pour the alcoholic mixture on top of it. Garnish with lime curl and black cocktail stirrer.
3. Bloody-tini – Nothing to get scared about the name of this cocktail. This cocktail has a red deep hue that comes from the Acai component of this drink: 2 oz. Acai Spirit, 1 oz. Acai juice, 1/2 oz. fresh lime juice, and champagne.
1) Combine all components of the drink except the champagne.
2) Shake, pour into a martini glass and then top it off with the champagne.
4. Corpse reviver – This cocktail can make even the dead alive –combine 2 shots of cognac, 1 shot of apple brandy or Calvados, and 1 shot of Sweet Vermouth. Stir well with ice and strain into a cocktail glass.
5. Devil's punch – This is one of those drinks that can be served in a punch bowl or by the glass. Simply combine 2 oz. of tequilia, 1 oz. of orange liqueur, 1 oz. of limoncello, 1 oz. of sour mix, and a tiny bit of orange juice.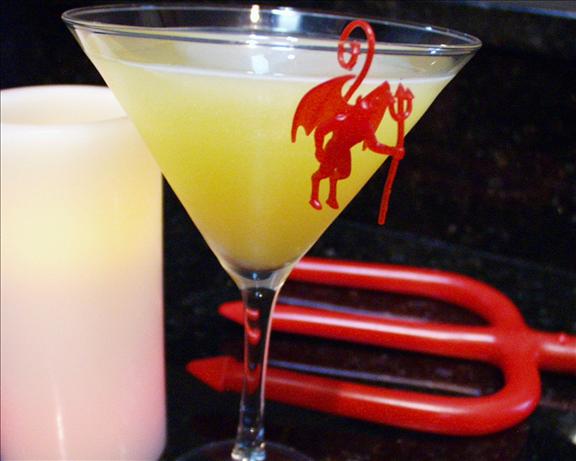 6. Dracula's kiss – This cocktail has flavors of cherry cola and is accented with some sweet grenadine. Combine 1 oz. black cherry vodka, 1/2 oz. of grenadine, cola and use a maraschino cherry for garnish.
7. Ghostbuster – The ghost aspect of this drink comes from the Irish cream that floats inside the cocktail made with 1 oz. of peach schnapps, 1 oz. of melon liquer, and a few drops of the Irish cream.
8. Green Ghoul – This is another great drink for Halloween that consists of 1 part UV green tea vodka and 2 parts lemonade simply shaken together with ice and served in a martini glass.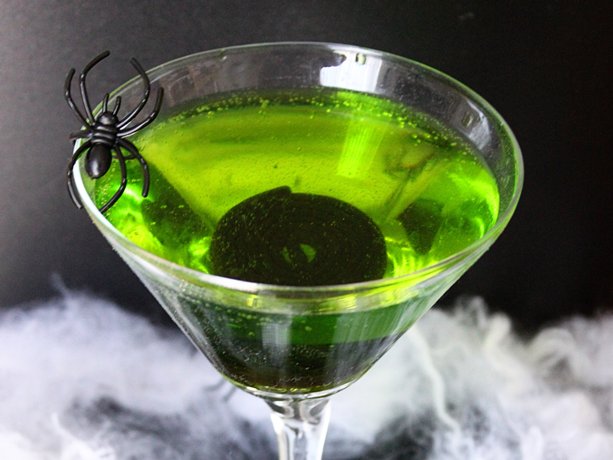 Image credits: sofakingdrunk.com, blog.halloweenexpress.com 
Haunting Halloween Cocktails