10 Popular Halloween Treats for Kids
28 Sep 2010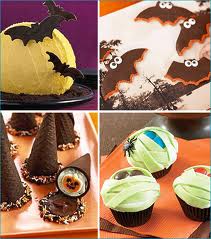 Looking for some delish treats for your little ghouls and goblin to gobble up? Pick your favorites from these 10 popular Halloween treats for kids and surprise the little fiends with finger-licking good food this year when they come knocking at your door asking for 'tricks or treats'. Make your Halloween bash memorable this year with these out-of-the-box creepy recipes. Some popular Halloween food ideas for kids are listed below. Trail the blog for some tempting treats.
Popular Halloween Treats For Kids
1. Banana Ghosts
Slit a banana width wise into half. Insert sticks on the open side of the bananas and put them in the refrigerator to freeze. Melt white chocolate in a double boiler and keep aside. Bring out the bananas and evenly coat them with white chocolate. Use a Styrofoam sheet to insert the banana sticks in upward position. Before the chocolate gets dry, use candies or currant pieces to make the eyes and mouth of the ghost. Your banana ghosts are ready to be devoured!
2. Apple Monsters
In an oven-safe glass bowl, take caramel candies and milk and put it inside the oven to melt. Stir the caramel mixture frequently to make a smooth consistency. Take fresh apples and insert sticks on one side. When the caramel is ready, dip the apple stick into the melted caramel. When the caramel is dry, press candies over it to prepare funny monster faces.
3. Frozen Frog Eggs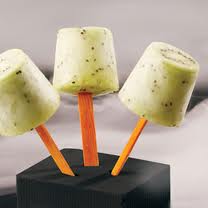 Blend few ripe and peeled kiwis with honey and lemonade to make a smooth mixture. Pour the mixture into small plastic cups. Insert popsicle sticks in the kiwi blend and cover the cups with foil, keeping the stick out. Put the cups inside the deep freeze and allow it to congeal for at least 3-4 hours until hard. Remove them from the plastic cups and serve.
4. Bat Chips
You will need soft and large flour tortillas to make these bat chips. Using your Halloween cookie cutters, cut the tortillas into weird shapes like ghosts, bats, etc. Now brush the cut portions with olive oil and allow them to broil on a cookie sheet. Once the upper part is nicely browned, flip it and broil it again. When both sides are properly browned, take these chips out. Sprinkle little salt over them and serve.
5. Chocolate Toads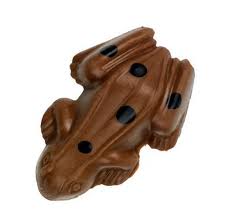 You will require a handful of gummy toads to prepare this. Take chocolate chips and butter in a saucepan, and melt it over low heat. Using a clean food paintbrush, coat the toads with the chocolate. You can also dip them in melted chocolate and keep them to dry on a waxed paper. When the chocolate dries completely, you can store them in an airtight container.
6. Creepy Eyeballs
Smear vanilla wafers with white frosting. Place green or blue lifesavers in the middle of the wafers. Now place a chocolate chip over the frosting to make an eye. Dip a toothpick into red icing and draw thin blood vessels over the green or blue part of the eyes.
7. Ghost Lollipops
Take chocolate chips in a sealable plastic bag. Place this bag inside the microwave oven or douse it in a pan of hot water until the chocolate chips have melted. Take a waxed paper and place a few popsicle sticks on it. Now make a small hole at the corner of the plastic bag to bring out the melted chocolate in a controlled way. Holding the packet in the right way, prepare a ghost shape over each of the popsicle sticks. Flatten the top surface with a table knife and allow it to dry. When ready, use red candies to make eyes. Put inside the refrigerator until the lollipops are hard and ready to be devoured.
8. Cheesy Corns
Cut prebaked pizza crusts into wedges, so that it looks like a candy corn. Cover the wedges with rows of cheeses in white, orange, and yellow color. Place these wedges on a cookie sheet and bake them for 8-10 minutes. Before serving the wedges, allow them to cool down at room temperature.
9. Mini Pumpkins
Using your palms, roll circus peanuts into small balls and press them to flatten it slightly on the top. Using a toothpick, prick a hole on top and draw lines from top center to bottom center, just like whole pumpkin. Use small amount of green gumdrops to make the stem and push that inside the hole made on the top center of the pumpkins.
10. Vampire Fangs in Blood
Cut peeled apples into thin slices so that they look like fangs. Coat the apples with lemon juice, to prevent them from turning black. Sprinkle the apples lightly with sugar powder and arrange in a serving plate. Drizzle a bit of strawberry sauce over the fangs to look like blood drops and your creepy dessert is ready.
These popular Halloween treats are sure to go down well with your little fiends.
Image Credits: blog.passion-for-parties.com, tailormademomma.blogspot.com, raniandwill.blogspot.com, www.hostessblog.com, smudgetikka.wordpress.com
10 Popular Halloween Treats For Kids