How To Organize A 50th Wedding Anniversary Party?
27 Sep 2010
It's that time of the year when your parents or grandparents are about to celebrate their 50th anniversary and you are wondering how to organize a 50th wedding anniversary party? Why not plan the menu first, for once this is planned, the rest will simply fall in place?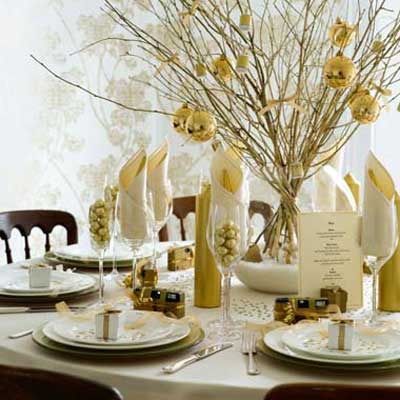 50th wedding anniversary is all about happy memories, celebrating and reliving fond memories and old times. It is this mood that your menu should capture. You can be as creative as possible in order to set this ambience. However, here are a few tips to give you some ideas on organizing a 50th wedding anniversary bash.
•    Use Gold:
The 50th year is always represented by the color gold. Hence, gold is the ideal theme color for your 50th wedding anniversary. Use golden color for the decorations, the linens, the plates, spoons, the candles, the flatware and wherever possible. You can also serve the "golden food" - roasted chicken or roasted turkey and glaze it with honey to give that golden effect or those whole new potatoes of small sizes, corn and sliced peaches in cream. Decorate a few cookies, chocolates and grapes with edible gilt before serving them to your guests, to get that heightened golden effect. You can also consider gilding the wedding cake for the same effect.
•    Honeymoon Menu:
One of the best ways to recall old memories on the 50th wedding anniversary is to recall the honeymoon trip that the couple had. While pulling up old photos and recalling old incidents are some ways of doing so, serving food associated with the couple's honeymoon spot works best. For example, for couple that went to Paris on their honeymoon, include foods like quiche Lorraine, coq au vin or beef stroganoff, French breads, green beans and a chocolate soufflé in their anniversary menu. Similarly, if they had been to the Hawaii, serve teriyaki chicken with rice, sweet potatoes, green salads and pineapple-coconut pudding on their wedding anniversary. Complement it with a good champagne to celebrate this rare occasion of their lives.
•    Reception Meal:
Planning and serving an exact replica of the couple's reception meal is another great idea that will surely touch their hearts and leave them being happily nostalgic. In case this is not possible, then come up with your own classic reception menu and treat the couple with one. Serve some nice shrimp cocktail, green salad, chicken with garden vegetables to conjure up a lavish meal. Keep some nice champagne ready to wash these down. Also, arrange for a huge anniversary cake for the party. Check with the couple if they have saved the topper from their original wedding cake. If yes, top the anniversary cake with it too – this would draw an instant semblance of this with the original wedding cake and would create the same magic instantly. Give boxed slices of this cake to each guest to take home. Also try inviting as many guests as possible who also attended the original wedding party. Their presence would definitely make the couple feel nice. But more than that, the old memories that they can share would instantly make the party live and conversational and set the mood of reliving old times.
•    Dish out the Retro:
Dish up popular foods of the time when the couple was dating. For example, if they started dating in 1950s, serve the popular hamburgers of the time, with French fries, onion rings and milkshakes. Complement this by decorating the tables with photographs of the couple taken while they were dating. Food with fond memories and pictures bringing those memories to real life is a great combination to touch the couple's heart.
Thus, try these simple ideas out while organizing a 50th wedding anniversary bash and surprise the old loving couple in the most pleasant way.
Photo Courtesy: image.confetti.co.uk
How To Organize A 50th Wedding Anniversary Party?