Top 10 Vegetarian Dessert Recipes
27 Sep 2010
There are people who prefer to eat vegetarian for their meals. If you have to serve these people, then here are few delicious vegetarian dessert recipe ideas, which will certainly be tempting for your vegan guests.
Top 10 Vegetarian Dessert Recipes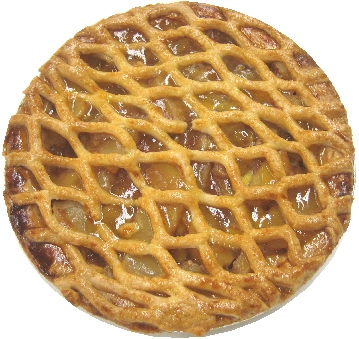 Apple Pie
Use a butter pie crust to shape into a pie plate. On a separate bowl put the sliced apples and coat them with a mixture of sugar, cinnamon powder, nutmeg powder and flour. Pour the coated apples inside the pie crust. Now mix the brown sugar, flour and butter to sprinkle on top of the pie. Bake this at 350F until the crust turn golden brown. Top the pie with whipped cream or vanilla ice cream before serving.
Apricot Cherry Compote
Take a saucepan to mix apple juice, orange zest, dried cherries, dried apricots, raisins, ginger and sugar and then put the pan on a stovetop to boil for 15-20 minutes. Add hazelnut liqueur into this mix while simmering, then remove from heat and set aside. This can be served warm over pancakes, cakes or ice cream as a dressing.
Banana Pineapple Sorbet
Use a food processor to blend frozen and sliced bananas, frozen pineapple juice and shredded coconut until it comes out a smooth paste. Take chilled bowls to serve the dessert. For garnish, sprinkle with coconut flakes on top of it.
Strawberry Pancakes
Make a smooth batter with the help of cornstarch, milk, sugar powder, salt and flour. Use an oiled skillet to heat up in medium heat over the stovetop. Now take a big spoon of batter on the skillet and quickly tilt the pan in a circular motion to prepare a thin and round shaped pancake. Fry both the sides until it turns light brown. Use strawberry jam to fill inside and roll up to serve.
Independence Day Fruit Salad
Use raspberries, white peaches and blue berries to prepare this fruit salad. Wash the fruits and then peel and cut the white peaches into square shapes. Arrange all the fresh fruits in a salad bowl and put inside the refrigerator to get chilled by covering the bowl with a plastic wrap. Before serving add whipped cream on top of the salad.
Apple Caramel Bake
Take a glass baking dish to mix flour, baking powder, milk, sugar, salt, cinnamon powder, apple slices and chopped almonds. Heat a saucepan to combine margarine, brown sugar and water. Spread this mixture over the prepared apple mixture. Now bake for 20 minutes until lightly browned.
Chocolate Pudding
Take a saucepan to combine milk, corn starch, cocoa, sugar and vanilla and cook this mixture over medium heat until the pudding thickens to right density. Now pour this into the serving bowl and allow them to cool inside the refrigerator. Serve by sprinkling chocolate chips or shredded milk chocolates.
Carrot Cakes
Thoroughly mix flour, baking soda, baking powder, cinnamon powder and salt with the mixture of sugar, oil, milk and vanilla. Add shredded carrots and chopped walnuts to this mixture. Pour this mixture in a greased tray and bake it inside the oven until it is perfectly done. Use any of your favorite cream cheese frosting to decorate the cake.
Fresh Peach Cobbler
Take a saucepan to combine cornstarch, sugar, sliced peaches and water. Allow this to boil over the stovetop and once thickened pour into a baking dish. Sprinkle cinnamon powder over the mixture. In another bowl combine flour, sugar, salt, margarine, milk and baking powder and blend the mixture well to make a thick liquid. Now spread this liquid over the prepared baking dish and then put into oven for baking until golden brown.
Fresh Apricot Crisp
In a large bowl mix rolled oats, margarine and sugar and set aside a part. Add water to one part and make the oats to get crumbly. Put the oats mixture on a greased baking tray. On top of this layer arrange the chopped apricots evenly. Spread little bit of lemon juice over the apricots and add another layer to cover the apricots with the remaining oats mixture. Bake this for 35-40 minutes inside the oven until lightly browned.
Image Courtesy: ruthys.com
Top 10 Vegetarian Dessert Recipes