Top 10 Popular Potluck Dessert Recipes
27 Sep 2010
Are you going to attend a potluck party? Then here you will find few easy potluck dessert recipe ideas, which can make delicious desserts without much difficulty.
Top 10 Popular Potluck Dessert Recipes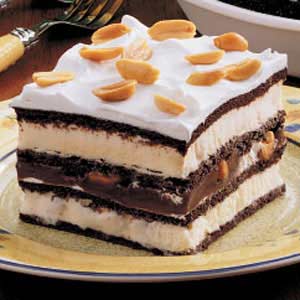 Ice Cream Dessert
Use cookies to crush and keep aside half of this. With the remaining part mix butter and pat the mix in a deep and wide plastic container. Cover the container and keep inside the refrigerator for freezing of the butter. Bring out and then spread your favorite ice cream on top of the cookie mix. Again put the container inside the refrigerator by covering with lid. After 20 minutes or so, bring the container out and spread cold whip and reserved cookie mix on top. Finally refrigerate this whole thing inside the deep fridge zone for a night. Bring out of the fridge just before serving or packing inside an ice box.
Brownies
Take a medium bowl to combine and mix by adding melted butter, cocoa, sugar, eggs, vanilla, flour and salt one after another. To the batter add chocolate chips, raisins, cherries, chopped nuts, marshmallows etc. Now put the batter in a greased pan and bake it for 25-30 minutes. Once cold, cut into square pieces to carry for the potluck.
Carrot Cakes
Thoroughly mix flour, baking powder, baking soda, cinnamon powder and salt with the mixture of sugar, oil, eggs and vanilla. In this mixture add shredded carrots, flaked coconut, chopped walnuts and crushed pineapple. Pour this mixture in a greased tray and bake it inside the oven until perfectly done. Use your favorite cream cheese to frost the cake.
Peanut Butter Cookies
Combine peanut butter, sugar and eggs to make a smooth paste. Use a tablespoon to take the batter and drop over the cookie sheet. Bake the cookies for 10-12 minutes at a temperature of 350F or lightly browned.
Lime Pie
Buy a readymade pie crust to fill in with the mixture of egg yolks, lime zest, condensed milk and lime juice, blended in an electric mixer. Bake the crust inside the oven until the filling sets perfectly. Allow the pie to cool and then place it inside the refrigerator. Now prepare the topping by blending whipped cream with icing sugar. Before serving, cut pieces from the pie and add a dollop of topping on each of the pieces.
Cherry Nut Dessert
Take a bowl to mix the cherry pie filling and crushed pineapple together. Use this mix to spread on the bottom of a greased baking pan. Over this layer, sprinkle a layer of dry cake mix powder. On top of this layer add another layer of minced nuts. Over this layer pour some amount of melted butter and place inside the oven for baking at 325F until brown. Allow this to cool and use whipped cream as dressing.
Bacardi Rum Cake
Use cake mix, pudding mix, water, beaten eggs, oil and rum to make a smooth batter. Use a tube pan or bundt pan to sprinkle chopped nuts and on top of that pour the batter. Bake this for an hour at 325F and then allow it to cool. Now prepare the glaze by boiling sugar and water and mixing rum to this. Use this liquid to glaze the cake once it is completely ready.
Chocolate Flan Cake
Take a bundt pan to spread the bottom with melted caramel. Now prepare the cake batter from readymade cake mix powder. Pour this batter over the caramel. Next prepare the flan mixture by blending cream cheese, vanilla and eggs with condensed milk. Gradually add this over the cake batter. Bake this inside the oven until nicely done. Bring the cake pan out and invert on a flat dish. Keep it inside the refrigerator to cool.
Chocolate Chip Cookies
Combine flour, baking soda and salt with the mixture of eggs, white sugar, brown sugar, butter and vanilla to prepare the dough. Now add chocolate chips and chopped nuts in this dough. Cut out small balls of dough to place on the ungreased cookie sheet. Bake for 10 to 12 minutes until crisp and lightly browned.
Pumpkin Cake
Make the batter using a large bowl by combining the flour, baking soda, baking powder, cinnamon powder, sugar, salt, oil and eggs. Add canned pumpkin, vanilla extract and chopped walnuts in this batter. Pour the batter in a greased baking pan and put inside the oven to bake for half an hour. Use your favorite frosting to decorate the cake once it is cooled.
Image Courtesy: blogspot.com
Top 10 Popular Potluck Dessert Recipes