Top 10 Kosher Dessert Recipes
27 Sep 2010
If you are interested to try some of the Kosher dessert recipe ideas, then here is a list of them. From this list, I have prepared a few and all of them came really well.
Top 10 Kosher Dessert Recipes
Apple Kugel
Use beaten eggs, cooked noodles, chopped apples, cottage cheese, sour cream, sugar, cinnamon, raisin and salt to combine in a large bowl. Put this mixture into microwave on medium high heat for around 7 minutes. Now prepare a crumbly topping with chopped walnuts, butter and brown sugar to sprinkle over the pudding. Put the pudding back to the microwave for further baking until it turns to be firm enough.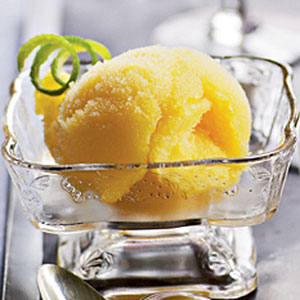 Mango Sorbet
Use a blender to puree the mango pieces and sugar. Add drops of lemon juice and orange juice to the puree. Refrigerate this mixture for overnight and then use an ice cream maker to prepare the sorbet in soft consistency. Cover the small bowls of sorbet with plastic wrap and allow it to freeze for another few hours before serving.
Passover Brownies
Prepare the batter by mixing chocolate, butter, beaten eggs, coffee, sugar, potato starch, cake meal, cocoa powder, salt and vanilla extract. Sprinkle chocolate chips on the batter after pouring it on a greased pan. Bake this in a preheated oven for around half an hour until the center part forms into dark, brown crumbs.
Ginger Cookies
Take a large bowl to mix ingredients like flour, ginger, baking soda, cinnamon, cloves, salt, sugar, margarine, molasses and eggs. Make small balls out of the dough and roll them over sugar powder. Put these balls over an ungreased cookie sheet and then allow them to bake for 10 minutes until they turn brown. Cool them on the rack and store inside an airtight container.
Chocolate Covered Strawberries
Prepare the chocolate melt by using chocolate and shortening. Now insert sticks inside every strawberry and dip them into this chocolaty liquid. Allow these to cool by inserting them upside down on a Styrofoam sheet.
Caramel Corn
Make the syrup by boiling the mixture of brown sugar, corn syrup, margarine and salt. Put few drops of vanilla extract and pinch of baking soda into this liquid. Take freshly popped popcorns to pour into the syrup and transfer this on a roasting pan. Bake these for almost an hour to make the crusty and caramelized pop corns.
Cranberry Pistachio Biscotti
In a large bowl combine flour, baking powder, eggs, oil, sugar, vanilla and almond extract to prepare soft dough. Take dried cranberries and chopped pistachio nuts to mix with the dough. Make a long log of 2 inches thickness out of this dough and put this inside the oven for baking till light brown. After this step, bring this out, allow to cool and then cut into slices. Separate the slices and then put it back for further baking until the cookies become crispy.
Pecan Snack
Take a large bowl to mix beaten eggs, pecans, sugar, cinnamon powder and salt. Spread this mixture on a baking sheet and put inside the oven to bake for around an hour. Occasionally you have to stir the pecans. Once done, store them into an airtight container.
Pumpkin Cake
Prepare the batter in a large bowl by mixing the flour, baking powder, baking soda, cinnamon powder, salt, sugar, oil and eggs. In this batter, add vanilla extract, canned pumpkin and chopped walnuts. Take a greased baking pan to pour the batter and then bake this for half an hour until it is nicely done. Allow the cake to cool and then decorate with your favorite frosting.
Samoan Panikeke
Use the flour, baking powder and sugar along with mashed banana, vanilla essence and water to make soft and smooth dough. Take a deep fryer pan to heat up vegetable oil. Now take a large spoon of batter to fry in hot oil until both sides are nicely done. This way prepare the panikekes and soak the extra oil over paper towel. Sprinkle with powdered sugar or your favorite jelly on top of these balls.
Image Courtesy: fitness.com
Top 10 Kosher Dessert Recipes