Top 10 Hungarian Dessert Recipes
27 Sep 2010
Hungary is one of the big names in the world of dessert making. There are several delectable Hungarian dessert recipe ideas, among which I made a list of top 10.
Top 10 Hungarian Dessert Recipes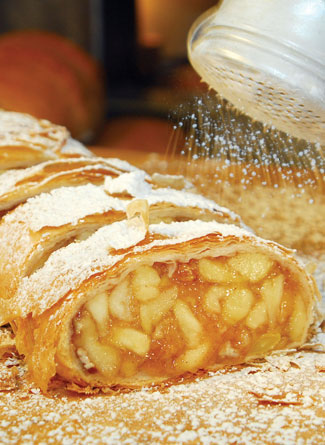 Apple Strudel or Almasretes
Mix peeled and sliced apple with breadcrumbs to put over the buttered phylo dough sheets. Now sprinkle sugary cinnamon powder on top of this and make a roll by pulling the sheets towards you. Tuck both the ends and brush with butter before putting it inside the oven to bake at 350F for 55-60 minutes. While serving cut into small slices and sprinkle with sugar dust.
Bismarck Doughnuts or Fank
Prepare the flour dough by mixing milk, butter, egg, sugar and yeast. Allow this to rise for couple of hours. Then roll the dough on floured surface and cut into round doughnut circles. Fry this in hot vegetable oil until it turns light brown on both the sides and then soak the extra oil with paper towel. You may simply sprinkle sugar dust or can frost with jelly.
Coffee Cake or Aranygaluska
Use sour cream, salt, sugar, eggs, butter and yeast to knead with flour. Cover the dough for 2 hours until it rises to double. Now cut small sized balls out of this dough and dip them into melted butter for rolling into sugar, cinnamon and walnut mixture. Place these balls on a greased pan and put inside oven to bake at 375F until they turn golden brown.
Hungarian Apple Cake or Apfel kuchen
Prepare the soft and sticky dough by using milk, butter, sugar, eggs, salt, flour and yeast. Allow this to rise for few hours and after that take the buttered pan to put the dough. Now push apple slices over the dough in diagonal pattern to make a concentric spiral shape. Bake this for 350F inside the oven until it turns light brown.
Hungarian Pancakes or Palacsinta
Make a smooth batter with the help of beaten eggs, milk, sugar powder, salt and flour. Use a buttered skillet to heat up in medium heat over the stovetop. Now take a big spoon of batter on the skillet and quickly move your hand in a circular motion to give it a thin and round shape. Fry both the sides till light brown. Use strawberry jam to fill in to make a roll.
Hungarian Beigli
Prepare the dough by using milk, sugar, butter, eggs, flour and yeast and cover it for 45 minutes to increase in size. Now make a paste of ground walnut, cinnamon powder, sugar and milk as the filling. Roll the dough over flat surface in rectangular shape and put the filling all over it. Roll up this whole thing and place on a baking tray. Brush with beaten egg before baking at 350F until it turns lightly browned.
Plum Cakes or Gwetche kuchen
Prepare the dough to be soft and sticky by using the normal ingredients like sugar, milk, eggs, butter, flour and yeast. Allow some time for rising to double and then take a buttered pan to put this dough. Take plum halves to push inside the dough in a beautiful spiral or circular pattern and dot it with remaining butter. Now bake this in 375F until the cake turns to be golden brown.
Poppy Seed Moon Strudel or Makosbeigli
First you need to make the dough by mixing milk, butter, egg, sugar and yeast along with the flour. Now prepare the thick poppy seed filling by mixing ground poppy seeds, sugar, milk, butter and lemon zest. Roll the dough in a rectangle shape and spread up the filling. Roll up the whole thing to give it a pipe-like shape. Place this on a greased baking pan and put inside the oven to bake at 350F for 45 minutes.
Hungarian Angel Wings Cookies or Csoroge
Prepare soft and smooth dough by using flour, egg yolks, sour cream, rum, sugar and salt. Now roll on a floured surface to make very thin layer. Use a pie crimping wheel to cut this into small squares or rectangles having serrated sides. Fry this in hot vegetable oil until golden brown. Soak the extra oil in a paper towel and sprinkle with sugar powder before serving.
Hungarian Coconut Balls
Put the raisins into the mixture of rum and lemon juice to soak up. Now thoroughly mix mashed potato, sugar powder, cocoa powder, flaked coconut and raisin mixture to make dough. Cut out small balls out of the dough and roll over shredded coconuts. Allow these balls to refrigerate for at least 2 days before you serve to your guests.
Image Courtesy: ivillage.com
Top 10 Hungarian Dessert Recipes