How To Grill Vegetables - Make Your Own Party

26 Sep 2010
Learn how to grill vegetables – make your own party whenever you feel like at home. You can learn
any of the grilling recipes you wish and have some great delicacies made from grilled vegetables. Here are some grilling recipes just for you.
Grilled potato:
You will need some fresh potatoes along with summer squashes and green onions for the making of this recipe. The process is very simple as you will just have to toss the vegetables in olive oil with salt, pepper and some spices before you start grilling them. This is a very fast recipe and shall take you just ten minutes. It can be prepared even when you are in a great hurry.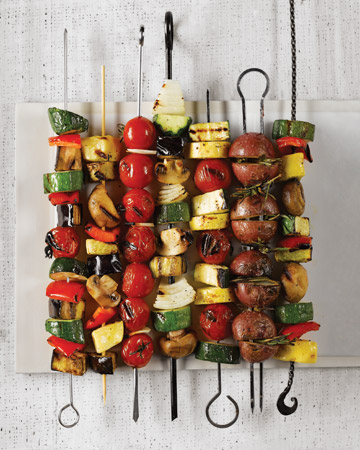 Grilled vegetable kebabs: If you believed that chicken and lamb can make some great kebabs here is something very interesting for you. Have you ever tried grilling vegetables? Grilled mushrooms, bell peppers, onions and zuchhini make some extraordinary kebabs. To make these kebabs taste wonderful, you will just have to marinate these well and thread them on the skewers alternatively for grilling. They will be ready in just ten minutes. These are ideal for your potluck parties or as your healthy snack in the evening.
Grilled eggplant recipe: Grilled eggplants taste wonderful and are a refreshing change from their usual preparations. To grill eggplants you need to cut them in long slices and add some lemon juice along with salt and pepper. Eggplants do not take much time to cook and will be ready in twenty minutes. When you are serving this dish you can serve them with some fresh basils, coriander, yogurt or oregano for some additional taste.
Grilled tomato recipe:
  If you are fond of tomatoes you will surely love their grilled variety. To make grilled tomatoes, you will need ripe and firm tomatoes. You have to remove the watery pulpy part of the tomato before you start to grill it. Tomatoes will normally take 10 minutes to complete its grilling process. You can have them as your evening snack or as a filling of your favorite cheese sandwich.
Image credits: ittleshamrocks.com, marthastewart.com, kalynskitchen.blogspot.com
How To Grill Vegetables - Make Your Own Party