Summer Wedding Ideas – Throw A Fabulous Party

26 Sep 2010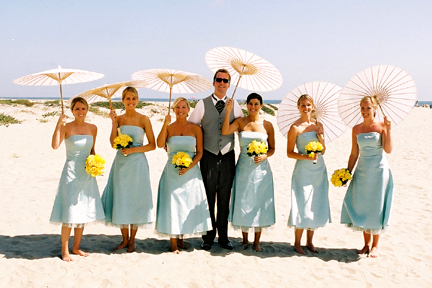 Are you planning a summer wedding for yourself or is someone very close to you getting married this summer? Here are some great summer wedding ideas – throw a fabulous party keeping in mind these ideas and have a memorable occasion. Summer wedding themes form the main part of these parties – there are hundreds of themes to choose from like a beach wedding party, tropical wedding theme and sunflower wedding theme. You can choose any type of summer wedding idea – but remember you have to make all arrangements related to food, drinks and décor keeping in mind the theme.
You can choose your summer wedding location in a beach, a lovely garden or any beautiful yard. You can take advantage of the long afternoon and plan many events in the afternoon. You can use fresh summer vegetables, fruits and flowers to decorate the venue. Make some unique lights by hanging strings of decorated lanterns from trees. You can also use gingham tablecloths along with some sunflowers in metallic cans for centerpieces.
Here are some ideas about food which you can include in the summer wedding:

• Include some refreshing drinks made from fresh fruits like watermelons and berries which are available in bounty in the season.
• Have some great cold desserts in your menu such as ice-creams, pudding, chilled and frozen caramelized candies, cool fruit delights and also some great sorbets.
• You can have some great seafood in your wedding – include delicious oysters and lobster dishes which shall complete your menu.
• Do not miss out on salads when you are planning your summer wedding.
Here are some more summer wedding drinks and food items which you can include in a summer wedding menu:
• Bubbly berry punch: This is a champagne based punch for your guests to keep them cool. To make the drink further delicious you can add fruits like strawberries, lemon slices, oranges and some cherries. This drink does not need ice as it spoils its look.
• Tea sandwiches: These are a good choice for summer weddings. These are usually served in the evening with cucumber. Tea sandwiches are made from smoked salmon, thin sliced tomatoes and pimento cheese. You can set various sandwiches in white doilies to give them an elegant look.
• Finger foods: You can make use of shrimps and other seafood for making finger foods. These foods can have a dressing of cream cheese, sliced vegetables, vegetable crackers and olive as a decoration. You can also serve crab puffs along with skewered meat kabobs as finger foods.
• In case you are looking for some breakfast foods you can lay orange juice, fresh fruits, hot waffles and some mimosas for your summer wedding.
Image credits: wedding-splendor.com, desiakhbar.com
Summer Wedding Ideas – Throw A Fabulous Party